My birthday is this Saturday, so this week's episode features my favorite things to eat using some of my favorite ingredients. Honey is close to my heart, not just because it's delicious, but because my family nickname since childhood has been Bibi or Beebee. Because of that, the bumblebee became my mascot and now friends and family buy me all kinds of bee-adorned goodies from aprons to water glasses to clutches to socks. Our wedding invitations even featured honeycomb and bees. So naturally, honey is my sweetener of choice and I was super excited to find bourbon infused honey at Stuarto's. I incorporated it into sweet and savory recipes that I think you'll love.
Pretzel Crusted Chicken Tenders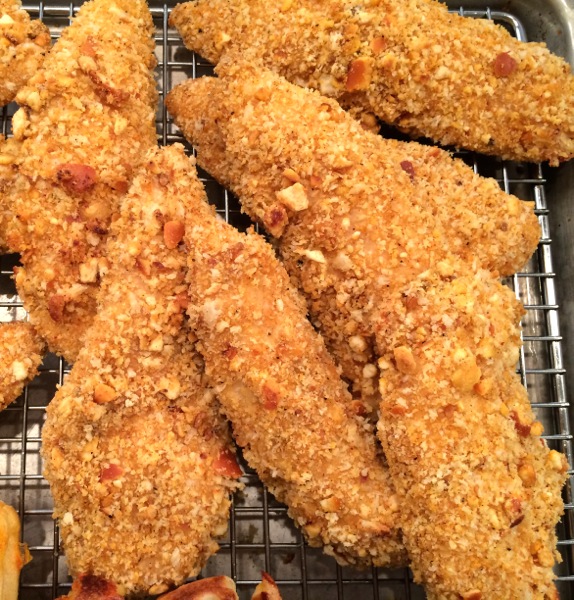 1 1/2 lbs chicken tenderloins
1/4 cup mayonnaise
1/4 cup honey mustard (we used KY Proud Sobo Honey Mustard sauce)
1 cup honey mustard pretzel bites
1/2 tsp smoked bourbon paprika
Bourbon Sea Salt and freshly ground black pepper
1/2 cup panko breadcrumbs
Cooking spray, to grease rack and to crisp
Sliced green onions, to garnish
Bourbon Honey, to garnish
Place the chicken, mayonnaise, and mustard in a large resealable plastic bag to marinate briefly.
Combine the pretzel bites, paprika, and a pinch each of bourbon sea salt and pepper in the bowl of a food processor. Process to form coarsely ground crumbs. Add the panko and pulse one or two times, just to incorporate. Place in a large resealable plastic bag or a paper bag.
Drop one or two pieces of chicken into the bag and shake to coat evenly. Place breaded chicken  on a lightly greased baking rack set over a baking sheet. Repeat with remaining chicken and lightly mist the tops of the tenders with cooking spray.
Bake at 400 degrees until chicken is done and breading is lightly browned, about 8-12 minutes depending on thickness. Serve with Bacon Cheddar Waffles, below, and garnish with sliced green onions and a drizzle of bourbon honey.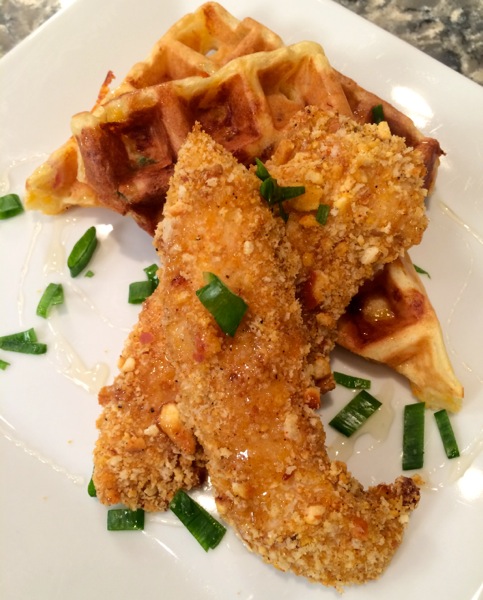 Bacon Cheddar Waffles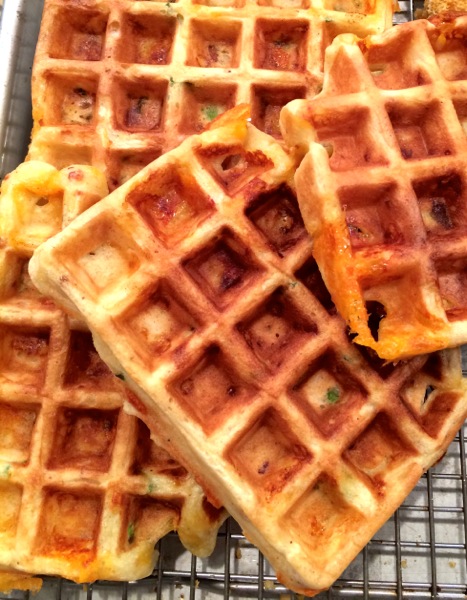 4 thick slices or 6 thin slices bacon, roughly diced
2 cups flour
1/2 tsp baking soda
1 tsp baking powder
1/2 tsp salt
3 eggs
2 cups buttermilk
1 tbsp bacon grease
1 tbsp honey
3/4 cup grated cheddar cheese
3 green onions, sliced
Heat a large cast iron skillet over medium high heat and cook the bacon until crispy and browned. Remove with a slotted spoon and drain on paper towels. When cool, chop into small crumbles. Reserve 1 tbsp bacon grease.
In a large bowl, combine the flour, baking soda, baking powder, and salt. In a separate bowl, whisk together the eggs, buttermilk, bacon grease, and honey. Add the liquid ingredients to the dry and whisk to combine. Fold in the cheese, scallions, and chopped bacon. Cook on a lightly greased, hot waffle iron until nicely browned and crisp.
Banana Honey Cake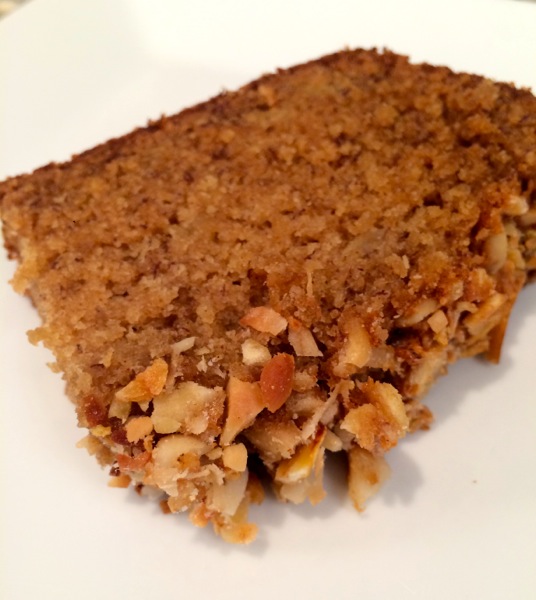 2 cups flour
1 tsp baking powder
1 tsp baking soda
1 tsp cinnamon
1/2 tsp salt
1/2 cup coconut oil, melted
1/2 cup brown sugar
1/2 cup honey
1 tsp vanilla extract
2 eggs
2 bananas, mashed
1/4 cup sweetened coconut flakes
1/4 cup macadamia nuts, chopped
1/2 cup banana chips, chopped
In a large bow, whisk together the flour, baking powder, baking soda, cinnamon, and salt. In a separate bowl, combine the coconut oil with the brown sugar, honey, vanilla, eggs, and bananas. Add the wet ingredients to the dry and fold to combine. Transfer to a lightly greased 9×9 inch square baking dish. Top with the coconut, macadamia nuts, and banana chips. Bake at 350 degrees until a toothpick inserted comes out clean, about 30-35 minutes.