I adore Thanksgiving. What's not to love about cooking a traditional meal and enjoying it with friends and family? Even though I'm pretty set in my ways when it comes to menu, it's always fun to try new recipes to see what sticks. In fact, the bourbon whipped sweet potatoes will be replacing my usual sweet potato streusel casserole! And the shoofly pie was a huge eye-opener for me. I was skeptical about a pie that calls for boiling water and molasses as two primary ingredients, but the liquid and crumb mixtures come together beautifully for a delectable pie! As for the gratin, I love anything baked in a mornay sauce with a cracker topping. Make one or all of these recipes for your Thanksgiving guests–you'll be so thankful you did.
Broc-Cauli Gratin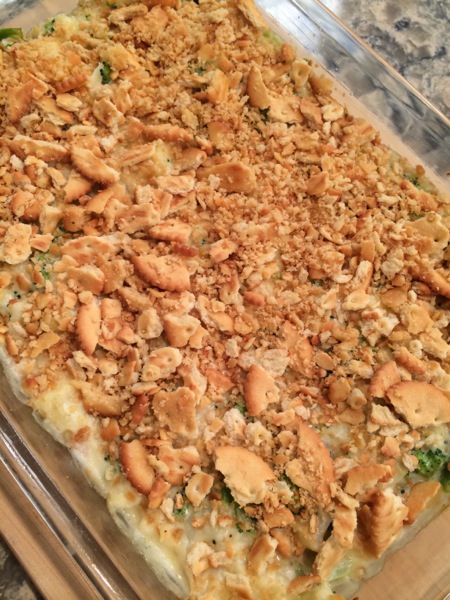 1 head cauliflower, broken into florets (reserve core & stems for another use)
1 head broccoli, broken into florets (reserve stems for another use)
6 tbsp butter, divided
3 tbsp flour
2 1/2 cups milk or half and half
1/4 tsp freshly grated nutmeg
Garlic salt and pepper, to taste
Pinch cayenne pepper
2 cups grated cheese (gruyere, white cheddar, or swiss)
1 1/2 cups crushed crackers
Bring a medium pot of salted water to a boil and cook the cauliflower florets until tender, about 5-7 minutes. Remove with a slotted spoon and drain in a colander. Add the broccoli to the boiling water and cook until tender, about 4-5 minutes. Remove with slotted spoon and add to the cauliflower in the colander and drain well.
In a large pot, melt 3 tablespoons of butter and add the flour. Stir to form a roux and cook for 1-2 minutes. Whisk in the milk and simmer to thicken. Add the nutmeg, garlic salt, pepper, and cayenne pepper. Turn off the heat and stir in the cheese to melt. Season again with salt and pepper and stir in the drained cauliflower and broccoli.
Transfer to a buttered baking dish. Melt the remaining butter in a small saucepan and add a pinch of garlic salt. Stir in the crushed crackers and sprinkle over the baking dish. Bake at 375 degrees until bubbly and golden brown, about 20-25 minutes.
Bourbon Whipped Sweet Potatoes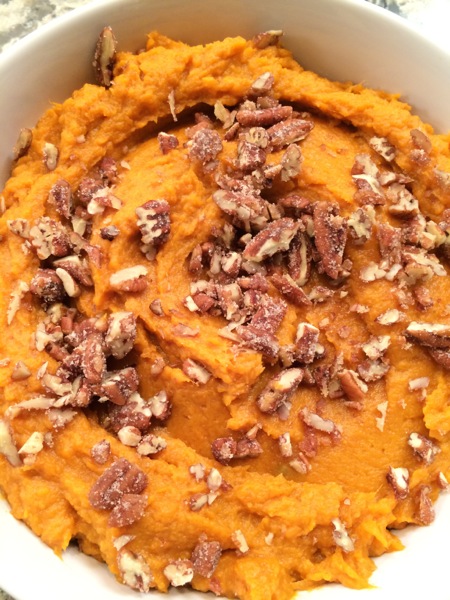 4 lbs sweet potatoes or yams
3/4 cup milk
4 tbsp butter
1/4 cup bourbon
1/4 cup brown sugar
Salt, to taste
1/2 cup toasted, chopped pecans, optional (we used D's Nuts Honey Bourbon pecans)
Scrub the sweet potatoes or yams and slice into 1/2 inch rounds. Wrap the slices in foil packets and roast in the oven at 375 degrees until tender when pierced with a fork, about 30-40 minutes. When cool enough to handle, peel the skin away from the sweet potatoes and transfer the flesh to the bowl of a stand mixer fitted with a whisk. Whisk in the milk, butter, bourbon, and brown sugar. Season to taste with salt and transfer to a bowl. If desired, sprinkle with pecans.
 Shoo-Fly Pie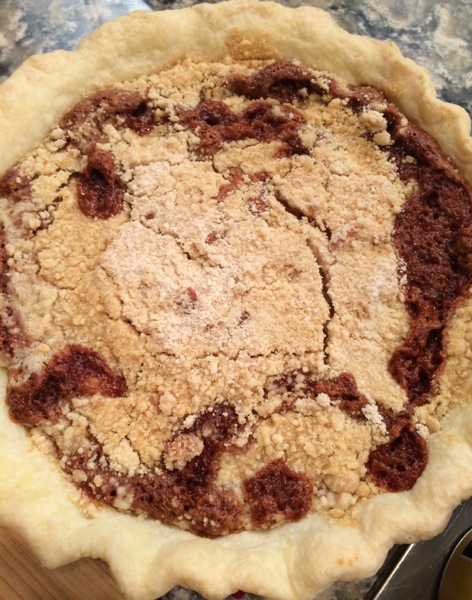 1/2 tsp baking soda
2/3 cup hot water
3/4 cup sorghum
1 egg
1 1/2 cups flour
1/4 cup butter
1/2 cup brown sugar
Pinch salt
1 unbaked pie crust
Dissolve the baking soda in the hot water, then add the sorghum and stir to combine. Whisk in the egg.
In a separate small bowl, combine the flour, butter, sugar, and salt to form a crumb-like mixture.
Pour 1/3 of the liquid into the bottom of the unbaked crust, followed by 1/3 of the crumb mix. Repeat layering two more times and bake at 375 degrees for 30-35 minutes, until crust is nicely browned and pie filling puffs up on the edges and is no longer jiggly in the center.