Easter makes me super nostalgic for childhood celebrations at our house in Walnut Creek. I think it's because we really celebrated Easter like any all-American family would. Sometimes we went to church service at the Presbyterian Church in Oakland that sponsored my family when they first arrived in the United States. And then Mom and the aunts would make things like ham glazed with pineapple and deviled eggs. And THEN we would have a legitimate egg hunt that was so much fun Christine & I would rehide and reseek the eggs for days to come, just to relive the joy of stuffing, hiding, finding, and opening up those cheap plastic eggs. Random bored day at home? We'd pull the eggs out of the hall closet, fill them with whatever we could get our hands on (usually Wrigley's Doublemint was the only treat we had access to), and hunt away! We had a huge backyard that was perfect for egg hunts and the surefire spots were in the magnolia tree, on the fenceline, and in the black drainpipe that always kind of freaked me out.
I just LOVE a good egg hunt. My sister set one up for me to find my high school graduation gift. Then she made one for my college dorm room one year, which she made my brother in-law set up for me when he was visiting on a business trip. College Easters meant HUGE egg hunts hosted by the Nelson's, my sunshine-y friend Andrea's always-ready-to-play parents who would come up from San Diego with a giant meal, hundreds of eggs (filled with chocolates, laundry quarters, and the occasional lottery scratcher if you were lucky), Easter baskets, and Easter bonnets for our group of friends. Even now, I can't resist buying plastic eggs to stick in care packages or goodie bags for friends & family. One of these days, Michael & I will have a big yard and we'll be able to host egg hunts of our own! And then we'll come inside and eat a feast of roast lamb with rosemary potatoes & mint sauce, carrots & asparagus with walnuts, and carrot cake with bourbon cream cheese icing.
Lamb Roast with Rosemary Potatoes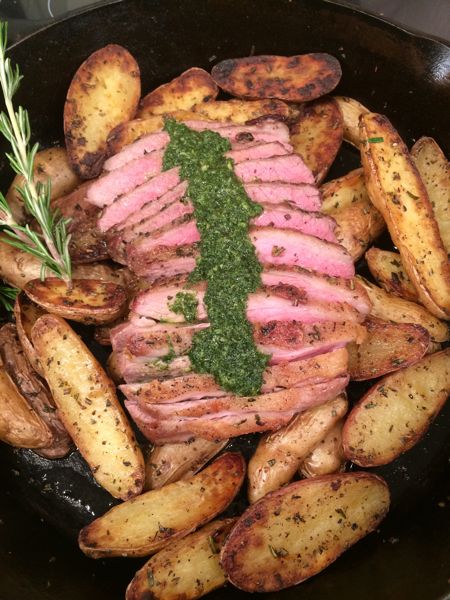 1 lamb roast, cut from the shoulder or leg (ours was pre-seasoned from Good Foods)
Fresh garlic, rosemary, salt and pepper
2 tbsp olive oil
1 lb fingerling potatoes
2 cloves garlic minced
1 tbsp chopped fresh rosemary
Preheat the oven to 400 degrees.
Rub the lamb roast liberally with chopped garlic, fresh chopped rosemary, salt, pepper, and 1 tbsp of olive oil. Heat a cast iron skillet over high heat and sear the roast on all sides to render the surface fat and brown the outsides.
Meanwhile, halve the potatoes lengthwise and toss them with the remaining olive oil, garlic, and rosemary. Season with salt and pepper. When the lamb is thoroughly browned on the outside, transfer it to a separate platter and add the potatoes. Brown the surfaces of the potatoes, turning often. Don't worry about cooking them all the way through, as they will continue to cook in the oven. Nestle the lamb back into the pan, amongst the potatoes, and place in the oven. Roast until lamb registers 130-135 degrees for medium rare. Remove from oven, rest, and carve.
Fresh Mint Sauce:
1 cup mint leaves
1 tbsp honey
3 tbsp white wine vinegar
3 tbsp olive oil
Salt and freshly ground black pepper
In the bowl of a food processor, pulse the mint leaves to coarsely chop. Add the honey and vinegar and with the machine running, drizzle in the olive oil. Season to taste with salt and pepper.
Roasted Carrots and Asparagus with Walnuts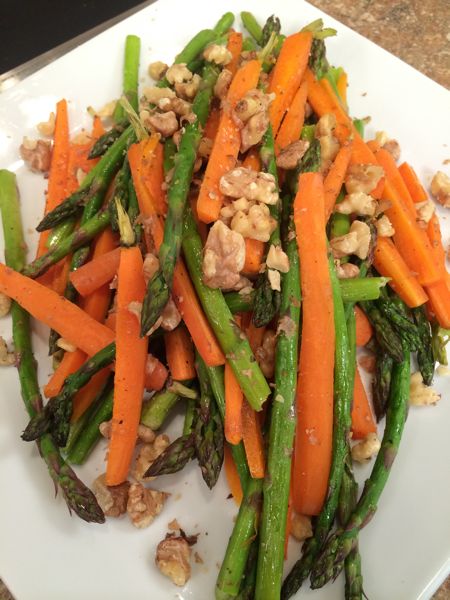 1 bunch carrots, peeled
1 bunch asparagus, ends trimmed
2 tsp olive oil
Salt and pepper
2 tsp walnut oil
½ cup walnuts, toasted and chopped
Cut the carrots in quarters lengthwise so that carrots are roughly the same size as the asparagus spears. Place on a baking sheet, drizzle with olive oil, season with salt and pepper, and toss to coat. Roast at 400 degrees until crisp tender, about 10-16 minutes depending on size of vegetables. Remove from oven and transfer to a platter. Drizzle with walnut oil and sprinkle with chopped walnuts.
Carrot Cake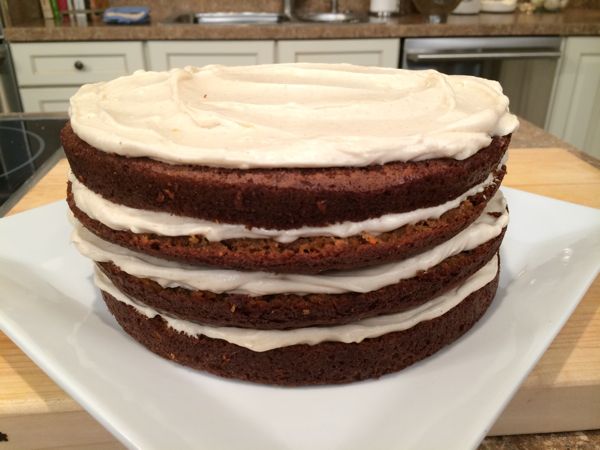 2 cups flour
2 tsp baking powder
2 tsp baking soda
2 tsp cinnamon
¾ tsp salt
¾ cup oil
½ cup applesauce
4 eggs
1 ¼ cups light brown sugar
3-4 cups grated carrots (about 1 lb)
In a medium bowl, whisk together the flour baking powder, baking soda, cinnamon, and salt. In a larger bowl, whisk together the oil, applesauce, eggs, brown sugar, and grated carrots. Add the dry ingredients to the wet and stir until just combined. Divide between two 9-inch cake pans that have been greased and floured or greased and lined with parchment. Bake at 350 degrees until a toothpick inserted comes out clean and top is nicely browned, about 20-25 minutes. Remove from oven and cool for 5 minutes, then invert onto a cooling rack or baking sheet. Remove parchment, if using, and cool completely before icing.
Bourbon Cream Cheese Icing
2 8-oz. packages cream cheese, softened
5 tbsp butter, softened
2 cups powdered sugar, plus more as needed
1 tsp vanilla
1 tbsp bourbon
Pinch salt
In the bowl of a stand mixer, beat the cream cheese and butter to combine. Add the powdered sugar and beat to form an icing. Add additional powdered sugar for sweetness, if desired. Add the vanilla, bourbon, and salt and beat the icing until fluffy and light.
Ice and assemble the cake as desired. I split the layers horizontally and ice between layers and on top to produce a 4 layer cake with exposed sides. Alternately, the layers can be iced whole for a 2 layer cake with covered sides.