I'm never ready for football season, but my husband sure is! I become somewhat of a football widow and lose my husband to college football Saturdays. The TV is constantly on in our house (sometimes multiple TVs showing different games, which makes me crazy) and our eatings habits adjust to our new couch potato schedule
I like to make little snacks and sweets, but also cook up a casual meal that we can eat at our leisure or have multiple helpings of, rather than a fork & knife meal that requires plating multiple elements and sitting at the table. This menu is great for a laidback day of football–the chili can simmer while you whip up the addictive snack mix and the super quick cookies. Hut hut!
Pork and Butternut Chili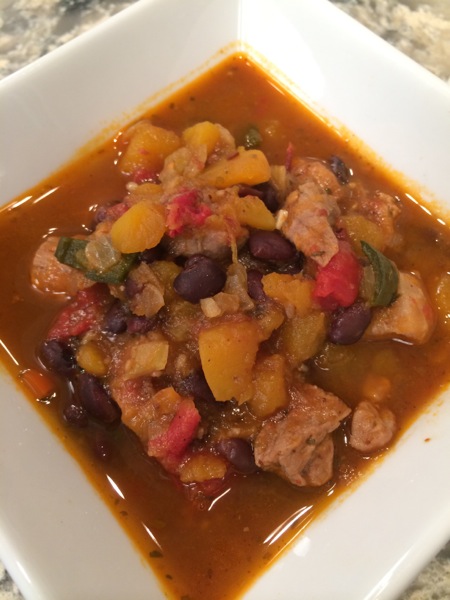 1-2 lbs pork shoulder, cut into 1/2 inch cubes
1 medium butternut squash, peeled and cubed
1 12-oz bottle pumpkin beer
2 chipotle peppers in adobo sauce
Kosher salt and pepper, to taste
2 tsp dried oregano
1 tsp olive oil
1 poblano pepper, diced
2 banana peppers, diced
1 large onion, diced
3 cloves garlic, minced
2 tomatoes, chopped
1 tsp chili powder
1 can black beans, rinsed and drained
Sour cream, for serving
Chopped cilantro, for serving
Corn chips, for serving
In a large pot, combine the pork shoulder, butternut squash, beer, chipotles, a heavy pinch of salt, and 1 tsp oregano. Simmer for 30 minutes.
In a separate pan, heat oil and sauté the peppers, onion, and garlic for 3-4 minutes. Add the tomatoes, chili powder, and remaining oregano and bring to a simmer. Pour this entire mixture into the large pot of pork and squash, add the black beans, and simmer for another 30-45 minutes, until pork is tender. Season with salt and pepper and serve with sour cream, cilantro, and corn chips.
Football Snack Mix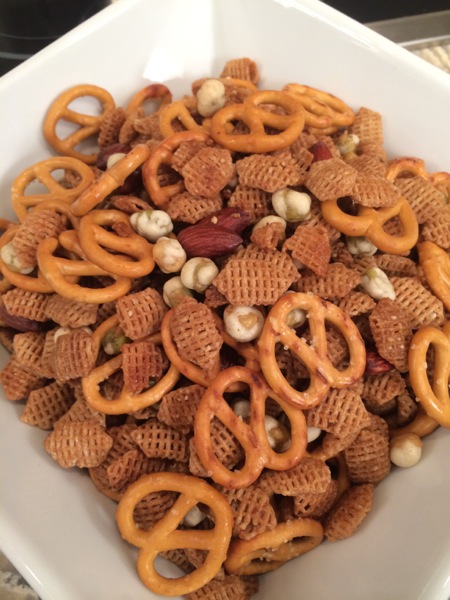 6 cups rice, wheat, or corn square cereal
2 cups pretzels
1 cup almonds
1 cup wasabi peas
3/4 stick butter
2 tbsp Worcestershire sauce
1 tsp garlic salt
1/2 tsp onion powder
In a large bowl, toss together the cereal, pretzels, almonds, and peas. In a small saucepan, melt together the butter, Worcestershire sauce, garlic salt, and onion powder. Pour this over the cereal mixture and toss to coat. Transfer to a baking sheet and bake at 275 degrees for 30-45 minutes, stirring every 10-15 minutes. Cool completely and serve.
Natural No Bake Cookies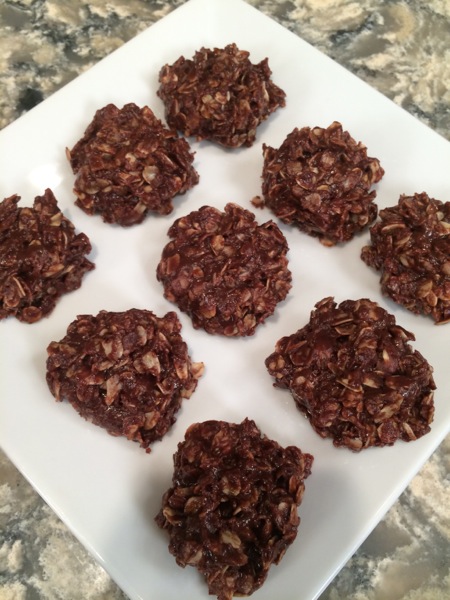 3/4 cup honey
1/3 cup coconut oil
1/4 cup cocoa powder
3 cups old fashioned oats
1 cup creamy peanut butter
1 tsp vanilla
Bring the honey, coconut oil, and cocoa powder to a simmer and cook for 2 minutes. Stir in the oats, peanut butter, and vanilla and mix until peanut butter is melted and mixture is smooth. Drop by spoonfuls onto parchment paper and set aside to cool until firm.