Labor Day is my favorite holiday weekend, probably because Michael and I were married during Labor Day weekend 5 years ago! I just love a long summer weekend, especially as the hot August weather starts to give and we get a glimpse of cooler Indian summer evenings. I'm all about a cookout menu and building burgers on English muffins is an awesome way to keep them compact with a more interesting carrier than a soft white bun. The family-style wedge salad is my kind of salad! I love the components of a wedge salad, but I personally hate the way they're served, as you end up having to do all the chopping and mixing at the table to get that perfect bite. Lastly, I am a huge fan of dark chocolate pot de creme. White chocolate pot de cremes are sweeter and the ideal canvas for a festive mix of tart berries.
BLT Burgers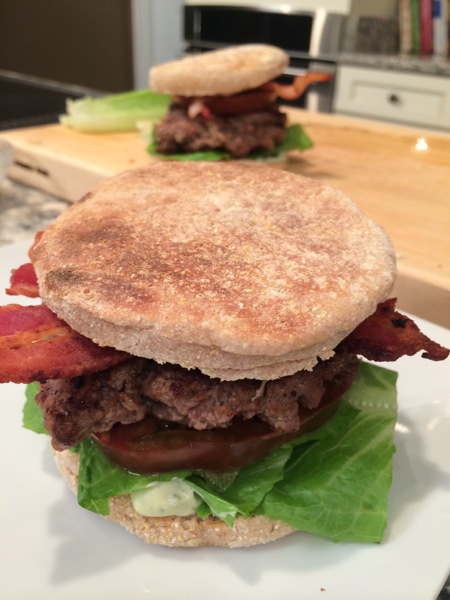 6 slices bacon, cut in half
1 1/4 lbs ground beef
1 tbsp Worcestershire sauce
1 teaspoon kosher salt
Freshly ground black pepper
1/2 onion, very thinly sliced
6 English Muffins
1/3 cup mayonnaise
1 handful basil leaves (about 1/4 cup packed)
6 Romaine lettuce leaves
6 slices tomato
Heat a cast iron skillet over medium heat and cook the bacon until crispy and browned. Drain the bacon on paper towels and reserve about 1-2 tbsp of bacon grease in the pan. To make the burgers, lightly mix the ground beef with Worcestershire sauce, salt and pepper. Divide the mixture into 6 portions, but don't pat or press into patties. When ready to cook, heat the cast iron and bacon grease over medium high heat and sprinkle some of the thinly sliced onion into a small pile. Gently press a portion of the ground beef onto the onions, top with more onions, and press flat with a spatula so that the onions are imprinted onto both sides of the burger. Repeat with remaining onion and ground beef, cooking the burgers to medium or medium well.
To assemble, toast the English muffins. Make the basil mayonnaise by processing the mayonnaise and basil in a food processor until smooth. Slather the basil mayonnaise onto the toasted sides of the English muffin, then layer on the lettuce, tomato, 2 pieces of bacon, and a burger patty.
Chopped Wedge Salad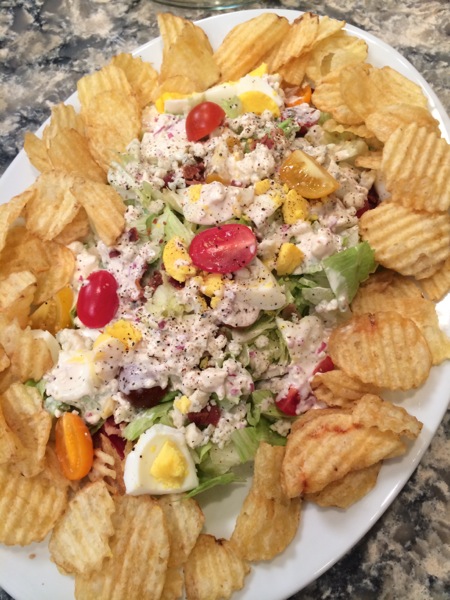 3/4 cup blue cheese crumbles
1/2 cup buttermilk
1/2 cup mayonnaise
1/4 cup finely diced red onion
1 tsp lemon juice
1 tbsp Worcestershire sauce
Salt and pepper
1/2 head iceberg lettuce, cut into chunks
1 cup grape or small heirloom tomatoes, halved or quartered
3 hardboiled eggs, chopped
4 slices bacon, crumbled
3-4 handfuls kettle cooked potato chips
To make the blue cheese dressing, combine the blue cheese crumbles with the buttermilk, mayonnaise, red onion, lemon juice, and Worcestershire sauce. Season with salt and pepper. To assemble the salad, arrange the iceberg lettuce on a large platter. Sprinkle with the tomatoes, hardboiled eggs, and bacon crumbles. Drizzle with the blue cheese dressing, then scatter potato chips around the perimeter of the plate.
White Chocolate Pot de Creme
4 egg yolks
1 tbsp sugar
Pinch salt
1/2 cup cream
1 1/4 cups half and half
8 oz white chocolate, finely chopped
2 tsp vanilla
Assorted raspberries, blueberries, or cut strawberries
In a small saucepan, heat the cream and half and half to barely a simmer. In a medium bowl, whisk the egg yolks with the sugar and salt, then slowly whisk in the hot dairy mixture. Transfer this back to the saucepan and cook over medium low heat until the custard thickens, stirring constantly. Once the mixture starts to steam, it's almost ready and should register about 175 degrees on an instant read thermometer, but be careful not to overcook and curdle.
Place the chopped chocolate into a large bowl and strain the hot custard mixture directly into the chocolate. Add the vanilla and whisk until smooth. Pour the custard into ramekins or cool slightly, then pour into plastic cups. Allow to set in refrigerator for at least a couple hours or overnight. Once custard is set, top with fresh berries and serve.