We've had some gorgeous warm fall weather, but this week it's going to cool down enough to warrant a cozy sweater and a bowl of soup. As we bid farewell to local tomatoes, lettuce, and corn, we warmly welcome sweet potatoes, winter squash, and hearty greens like kale, Swiss chard, and collards.
This sweet potato soup is velvety smooth and simple to blend together. Orzo cooked risotto-style with leeks and butternut squash is a quick and easy alternative to arborio rice. And bring a little zing to ordinary sautéed greens with a drizzle of bold black cherry balsamic.
Sweet Potato Soup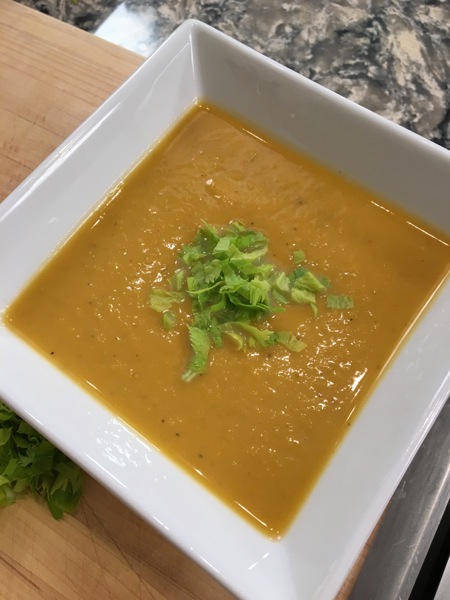 1 tbsp butter
1 tbsp olive oil
1/2 onion, diced
3 ribs celery, diced
2 leeks, thinly sliced and washed to remove any grit
3 sweet potatoes, peeled and diced
1 quart chicken broth
1 3-4 inch cinnamon stick
1/4 tsp dried thyme
Pinch fresh nutmeg, plus more to taste
1/2 cup half and half
1 tbsp maple syrup
Salt and pepper, to taste
Heat butter and oil in a large pot over medium high heat and sauté the onion, celery, and leeks for 2-3 minutes. Add the potatoes, broth, cinnamon stick, thyme, and nutmeg. Simmer until potatoes are very tender, about 25-30 minutes, adding additional water to thin if needed. Add the half and half and maple syrup and puree the soup until smooth, using an immersion blender. Season well with salt and pepper.
Butternut Orzotto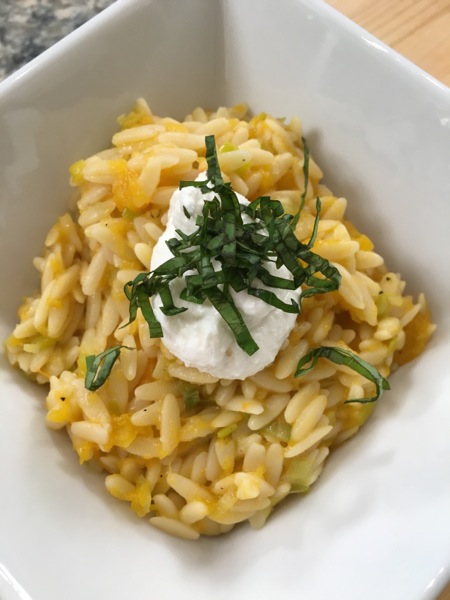 1 butternut squash, peeled, seeded, and diced (save scraps for stock, if desired)
1 tbsp butter
1 tbsp olive oil
1 leek, white & light green parts, thinly sliced (save green top for stock, if desired)
1 1/2 cups orzo pasta
2-3 cups chicken broth (or butternut squash stock, see below)
Salt and pepper, to taste
Basil, to garnish
Whole milk ricotta, to garnish, optional
If desired, make a butternut squash stock by placing the squash peels, seeds, and pulp in a stockpot and covering with water. Add dark green leek tops and simmer for 25-30 minutes. Strain.
Steam the diced butternut squash until tender and roughly mash with a whisk, fork, or potato masher.
In a large saute pan, heat the butter and olive oil. Add the leek to sauté for 1-2 minutes. Add the pasta and cook for an additional 1-2 minutes, stirring regularly. Ladle the butternut squash stock or chicken broth into the pan, stirring and adding more liquid as it is absorbed. Continue doing so until orzo is al dente and mixture is creamy, not dry. Add the mashed butternut squash and season well with salt and pepper. Garnish with basil and a spoonful of ricotta, if desired.
Balsamic Swiss Chard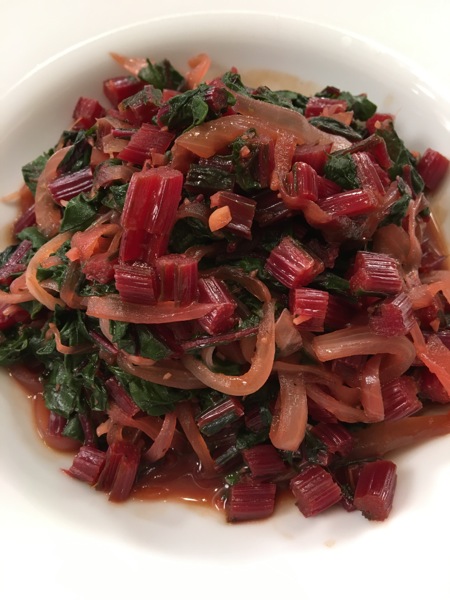 1 bunch swiss chard, stems and leaves separated
1 tsp olive oil
1/2 onion, thinly sliced
2 cloves garlic, minced
1-2 tbsp black cherry balsamic vinegar
Salt and pepper, to taste
Chop the swiss chard stems into 1/4 inch pieces, then shred the leaves into 1/2 inch ribbons. In a medium saute pan, heat the olive oil over high heat. Saute the onion and garlic for 1 minute, until fragrant, then add the chard stems to sauté for 1-2 minutes. Add the chard leaves and wilt. Drizzle with balsamic vinegar and season with salt and pepper.