Yawn! Losing an hour of sleep is extra difficult when you're up late, as I was last night, celebrating my birthday weekend with an unbelievably tasty steak dinner at the Holly Hill Inn. But I was more than happy to be up bright and early to make breakfast, as we had our sister and brother in-law staying with us. An extra-special breakfast makes a sleepy morning so much easier to bear. Plus, then you can get a full belly and take a nap on the couch later
That is, if you're not out enjoying the extra sunshine, which I highly recommend.
Sweet & Savory Crepes
3 eggs
1 cup flour
Pinch salt
Pinch sugar
¾ cup milk
¼ cup water
3 tbsp melted butter, plus more for greasing pan
Sweet Crepe options:
-Fruit, such as strawberries and bananas
-Sweet spread, such as peanut butter, chocolate spread, etc.
-Honey or powdered sugar
Savory Crepes
-Grated cheese
-Thinly sliced ham
-Eggs
In a large bowl, whisk together the eggs, flour, a pinch of salt and a pinch of sugar. Whisk until smooth, then add in the milk and water to form a smooth, thin batter. Finally, whisk in the melted butter and allow the mixture to rest for 15 minutes.
Heat a nonstick pan over medium heat and melt a small pat of butter in the skillet. Pour about ¼ cup of batter, barely enough to cover the bottom, into the pan and immediately swirl to spread evenly. Cook until the edges begin to pull away from the sides and the top appears slightly translucent and dry, then flip and cook for another 15-20 seconds. Adjust the heat if needed to achieve a lightly browned crepe. Lay the crepes out flat and stack them as they are completed. Continue to butter the pan and cook until all the batter is used.
For sweet crepes, stuff with fruit and chocolate spread. Alternately, use peanut butter, Nutella, or just a sprinkle of powdered sugar.
For savory crepes, place a crepe back in the nonstick pan. Place a small bit of grated cheese on the center of the crepe, followed by a piece of ham. Crack an egg into the center and fold the sides of the crepe up to form a square. Cook until the egg white is opaque, covering with a lid if necessary. Season with salt and pepper and serve.
Huevos Rancheros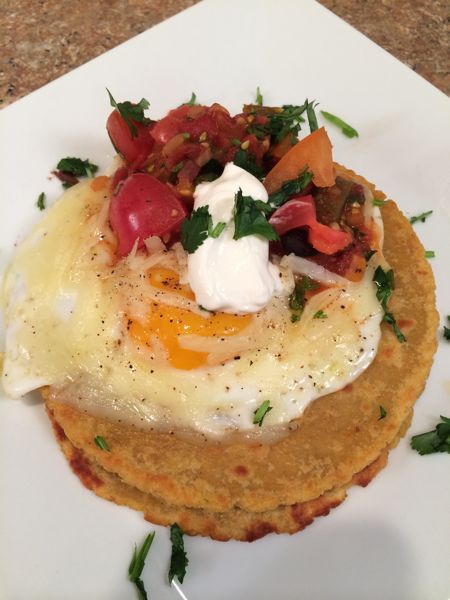 1 tsp olive oil
4 corn tortillas
1 can black seasoned refried beans
1 tbsp hot sauce, optional (we used Screamin' Mimi's))
2 eggs
¼ cup grated cheese
¼ cup KY Proud Salsa (we used Rimmer Family Favorites)
2 tbsp sour cream
2 tbsp chopped cilantro
In a small nonstick pan, heat a tiny bit of olive oil and heat the tortillas on both sides to lightly brown and crisp. Repeat with the remaining 3 tortillas and set aside. In a saucepan, heat the refried beans and season with hot sauce, if desired. Once all the tortillas have crisped, place two on two separate plates and spread with the warmed, refried beans. Top with an additional tortilla. Grease the nonstick pan again and fry the eggs, one at a time, sunny side-up. In the last minute of cooking, sprinkle with 2 tbsp of the grated cheese and place a lid on top to help melt the cheese. Slide the egg onto the tortilla stack, then garnish with salsa, sour cream, and cilantro.
Yogurt & Granola Parfaits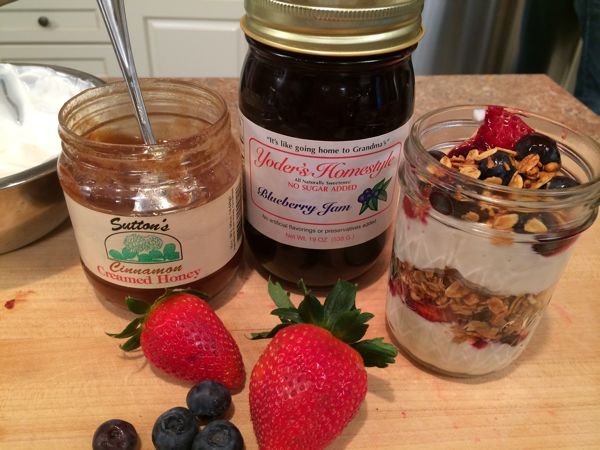 1 ½ cups greek yogurt
2 tbsp honey, or to taste
1 cup strawberries, sliced
½ cup blueberries
1 tbsp jam (we used Yoder's blueberry jam)
½ cup granola (we used Sweetgrass granola)
In a small bowl, sweeten the greek yogurt with honey. In a separate bowl, toss the berries with the jam to sweeten. To assemble parfaits, place a small amount of yogurt in the bottom of a small mason jar or sundae glass. Follow with a scoop of fruit and a sprinkle of granola. Repeat layering and serve.