I can't believe it's time for our annual Christmas meal! Our holiday dinner always features a special cut of beef and this year, I went with a very simple bacon wrapped filet. The basic preparation really lets the meat stand on its own. If you're looking for a splurge, check out the gorgeous KY Proud Wagyu filets at Cooper Bros, my favorite butcher shop in town. I think it's amazing that a KY farm is raising luxurious, flavorful Wagyu beef, which needs nothing more than a bit of salt and proper cooking to make for an outstanding piece of meat.
Scalloped potatoes is a classic and you can offset the richness with some simple roasted vegetables and a light seafood appetizer. Stay tuned for next week's episode that will give you plenty of sweet ideas for your holiday dessert table!
Bacon Wrapped Filets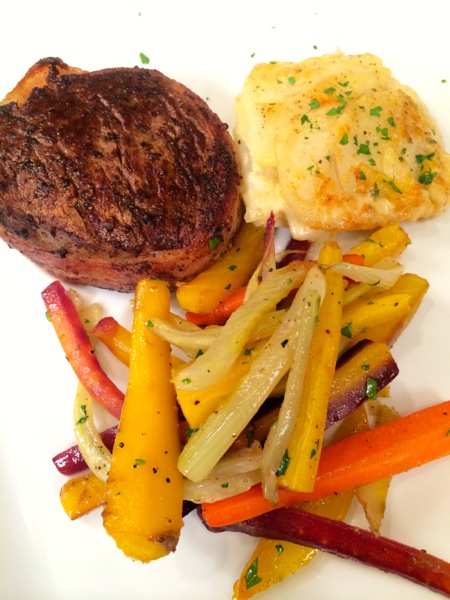 2 beef tenderloin filets, about 6 oz each
Salt and pepper
Olive oil
Wrap one slice of bacon around each filet and secure with a toothpick. Season the filets well with salt and pepper. Heat olive oil in a cast iron skillet on high heat and cook the filets for 3-4 minutes on each side. Turn the steaks on their sides and cook the bacon covered sides briefly, rotating to render the fat. Filets should be nicely browned on the surfaces and medium rare in the center.
Maple Glazed Carrots, Beets, & Fennel
6 carrots, peeled, halved, and quartered lengthwise
1 very large or 2 medium golden beets, peeled and cut into thick matchsticks
1 bulb fennel, cored and sliced
1 tbsp olive oil
Salt and pepper
1 tbsp butter
1 tbsp maple syrup
Toss the carrots, beets, and fennel with the olive oil, salt and pepper on a large baking sheet. Roast at 400 degrees until al dente, about 15-20 minutes. Remove from the oven and toss with butter and maple syrup. Season to taste with salt and pepper.
Scalloped Potatoes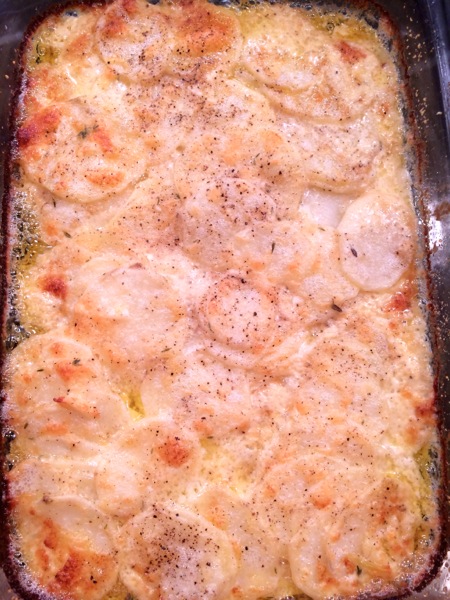 1 1/2 cups heavy cream
2 cloves garlic, chopped
2 sprigs thyme
1/2 tsp freshly grated nutmeg
Salt and pepper
2 lbs russet potatoes, peeled and thinly sliced on a mandoline
1 cup Parmesan cheese
Heat the oven to 400 degrees. Heat the cream with the garlic, thyme, nutmeg, and a sprinkle of salt and pepper. Remove the thyme stems and pour the hot cream over the potatoes in a large bowl. Add 2/3 of the Parmesan and season with salt and pepper. Transfer to a buttered baking dish and sprinkle with the remaining cheese. Cover with foil and bake for 35 minutes, then uncover and bake for 20-25 minutes, until potatoes are tender when pierced with a fork and nicely browned on top.
Smoked Salmon Appetizer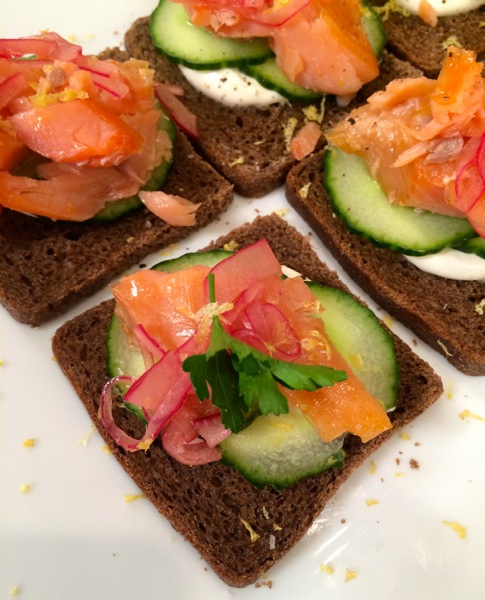 1/2 red onion, thinly sliced
1/3 cup red wine vinegar
1 tbsp sugar
12 slices cocktail pumpernickel bread
1/2 cup creme fraiche
1/2 English cucumber, thinly sliced
8 oz smoked trout
Zest of 1 lemon
Parsley leaves, to garnish
Freshly cracked black pepper, to taste
Quickly pickle the onion by combining it with the red wine vinegar and sugar. Allow to marinate for 5-10 minutes. Spread the pumpernickel with a thin layer of creme fraiche, then top with slices of cucumber, pieces of the smoked trout, and the pickled red onion. Top with lemon zest, parsley, and cracked black pepper.