My job really becomes so much easier this time of year. All it takes for recipe inspiration is a stroll through the Farmer's Market or Good Foods. My Bluebarb Buckle came out sweet, tart, super moist, and delightfully dense. I envisioned it as a lovely summer dessert, but I ended up nibbling on small slices of it for breakfast and I'm not sorry I did. I stumbled upon elephant garlic scap
Beets are popular in our household and Elmwood Stock Farm was selling giant softball-sized beets for $1 apiece!!! What?? While I've made a beet and goat cheese salad more times than I can count, beets make a welcome addition to any salad. Throw them on a Cobb or Caesar or mix them into a Russian salad, perhaps. Pan-searing them was new for me and they take on a concentrated sweetness and caramelization you don't get from boiling or even roasting. The bacon grease didn't hurt either.
I stumbled upon garlic scapes at Good Foods and turned them into the most vibrant pesto, accentuated by the sublime limey green of toasted pistachios. Pestos are so versatile and I think it'd be so fun to host a summer pesto party with side-by-side pasta dishes tossed with garlic scape, purple basil, regular basil, lemon basil, cilantro, parsley, and chive pestos. The possibilities are endless once you switch out the nuts, cheeses, and even experiment with infused olive oils.
 Bluebarb Buckle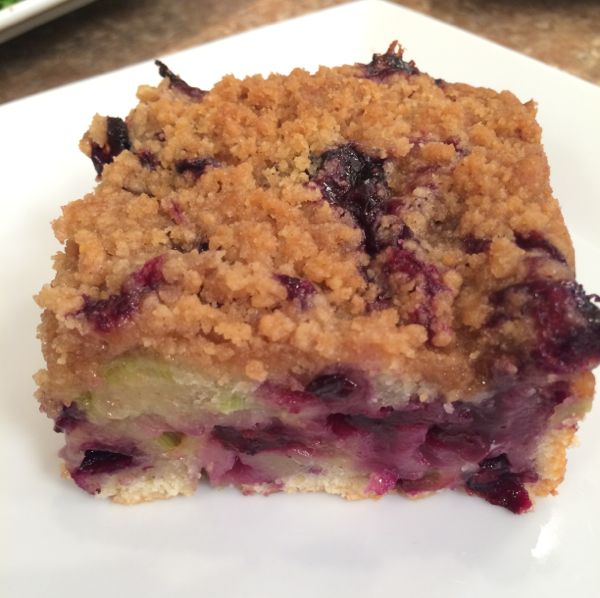 1 3/4 cups flour
1/4 cup cornstarch
1 tsp baking powder
1/2 tsp salt
1/2 stick butter, softened
3/4 cup sugar, divided
1 egg
1 tsp vanilla
3/4 cup yogurt (1 6-oz container)-we used vanilla
2 cups blueberries
2 cups thinly sliced rhubarb (2 large stalks)
Streusel topping:
1/2 stick butter
1/2 cup flour
1/2 cup brown sugar
1/2 tsp cinnamon
Preheat the oven to 375 degrees.
In a small bowl, whisk together the flour, cornstarch, baking powder, and salt. In the bowl of a stand mixer, cream the butter with the sugar until light and fluffy. Add the egg and vanilla and mix to combine. Add half the flour and mix to combine, then add half the yogurt and mix again. Repeat with the remaining flour and yogurt. Lastly, fold in the blueberries and sliced rhubarb. Transfer this mixture (the batter will be thick) to an 8×8 baking dish lined with foil and lightly sprayed.
In a small bowl, combine the butter, flour, brown sugar, and cinnamon, crumbling it with your hands to form a sandy, crumbly texture. Sprinkle this mixture over the buckle batter and bake until a knife inserted comes out clean, about 30-35 minutes.
BBLT Salads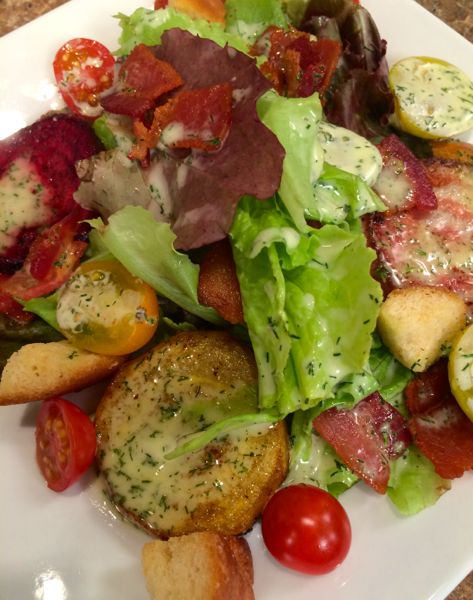 For the dressing:
1/4 cup mayo
2 tbsp olive oil
3 tbsp white balsamic vinegar
1-2 tsp honey
2-3 sprigs fresh dill
Salt and pepper
8 slices bacon, cut into 1 inch chunks
3 large beets, peeled and sliced into 1/4 inch rounds
4 cups spring mix
1 handful cherry tomatoes, halved
3/4 cup croutons
To make the dressing, combine the mayo, olive oil, vinegar, honey, and dill in a food processor. Process until smooth and season with salt and pepper.
In a cast iron skillet over medium heat, cook the bacon until it is crisp and browned. Remove from pan with a slotted spoon and drain on paper towels. Remove all but a tablespoon of the bacon grease and add the beets to the pan. Cook, turning often, until caramelized and tender. If the sugars in the beets start to burn, add a bit of water to help steam cook them.
To assemble the salad, place a handful of spring mix on a plate. Top with the tomatoes, cooked beets, bacon, and croutons. Drizzle with the dressing.
Garlic Scape Pesto
1/3 cup pistachios
8-10 large garlic scapes, roughly chopped (we used elephant garlic scapes)
1/2 cup grated Parmesan
1/3 cup olive oil
Salt and pepper
Rosie Basil Pesto
2-3 garlic cloves
1/3 cup almonds
1 1/2-2 cups Rosie or purple basil leaves
1/2 cup grated Parmesan
1/3 cup olive oil
Salt and pepper
In the bowl of a food processor, combine the pistachios, garlic scapes, and Parmesan. Pulse to chop finely. With the machine running, drizzle in the olive oil to form a thick pesto, adding additional olive oil if needed. Season well with salt and pepper.
For the basil pesto, give the garlic cloves a head start by mincing them in the food processor. Add the almonds, basil, and Parmesan and pulse to chop finely. Turn on the machine and drizzle in the olive oil, adding additional as needed to form a thick pesto. Season well with salt and pepper.
Serve both pestos over chicken, fish, or pasta. We tossed them with angel hair pasta and garnished with additional Parmesan, fresh mozzarella balls, and sliced cherry tomatoes.