How cute are these girls from Mayfield HS??  These lovely ladies, who adorably named their team the Multicultural Martha Stewarts, won the Junior Chef competition that I emceed at the State Fair earlier this year and part of their prize (in addition to scholarships, book money, cash, and bragging rights) was to appear on the KY Proud Kitchen with me and the Commissioner.  I just love when the Commissioner and his team come to see us!
We had the best day cooking together and it was just so fun to have their young enthusiasm in the studio that day.  They remind me so much of myself when I was that age–eager food-lovers and best friends who spent part of their prize money on new fall boots.  Love them.  We made their prize-winning recipe, in addition to a couple other favorites that they've either made at school or enjoy making during the holidays.  I can't wait to watch them defend their title at next year's competition!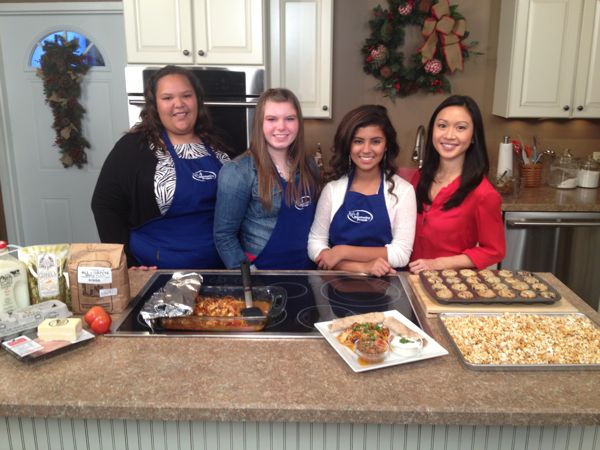 Mayfield HS Baked Chicken Fajitas
This recipe took top honors at the Junior Chef competition and is now being served weekly at Mayfield HS and at other high schools throughout the state.  The dish was judged on a lot of criteria, but standouts include the utilization of KY Proud ingredients, ease of preparation, and nutritional content.  High marks all across the board!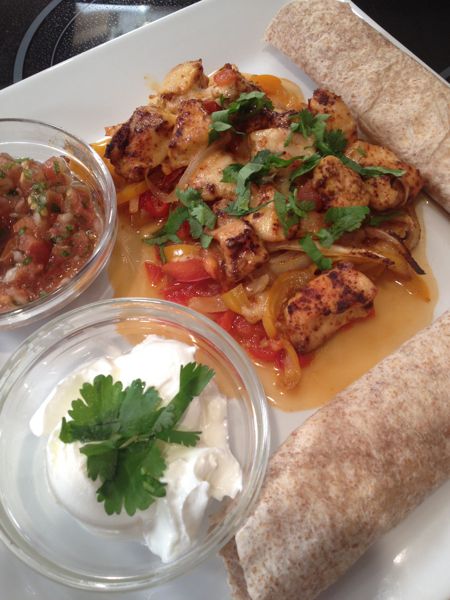 1 tbsp olive oil
3 bell peppers, assorted colors
1 onion, sliced
1 large tomato, diced
1 lb chicken breast, cut into bite-size pieces
Fajita Seasoning, recipe below
1 cup grated Monterey jack cheese
¼ cup cilantro
12 wheat tortillas
Sour Cream, for serving
Salsa, storebought or homemade
Fajita Spice Mix:
1 ½ tbsp chili powder
1 ½ tsp paprika
½ tsp garlic powder
½ tsp cumin
1 ½ tsp salt
1 tsp onion powder
½ tsp cayenne pepper
Preheat oven to 350 degrees.  Coat a 9×13 baking pan with about 1 tsp of olive oil.  Place the peppers, onion, and tomato in the pan and sprinkle with about half of the fajita seasoning.  In a small bowl, stir together the chicken, remaining olive oil, and the rest of the fajita spice mix.  Place the chicken over the vegetables and bake for 35-40 minutes, until chicken reaches 170 degrees.  Top the fajitas with cheese and return to oven to melt.  Sprinkle with the cilantro to garnish.  Place the tortillas in the oven to warm briefly.  Serve fajitas with sour cream and salsa.
Microwave Caramel Popcorn
This recipe has forever changed the way I make caramel popcorn.  I used to bake it in a low oven for over an hour, stirring every 15 minutes.  This version takes 1 1/2 minutes in the microwave and the results are identical.  Seriously???  What have I been doing all this time?  I have now freed up 58 1/2 minutes every time I make caramel popcorn.  And you get to burn calories shaking the paper bag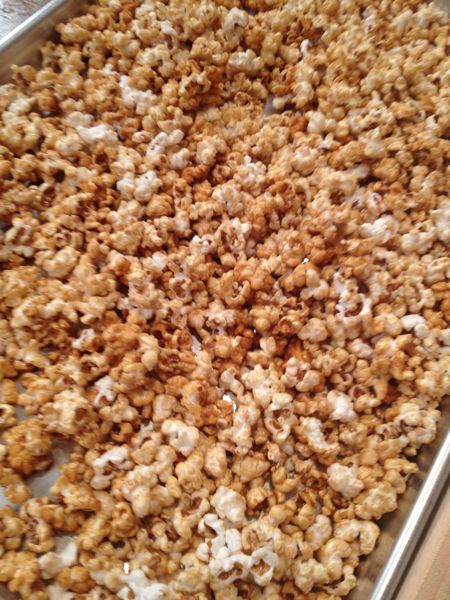 10 -12 cups popped popcorn (1/2 cup unpopped kernels)
½ stick butter
½ cup brown sugar
2 tbsp honey or sorghum
1 tsp vanilla extract
½ tsp cinnamon
Pinch salt
1/4 tsp baking soda
Microwave the butter, sugar, salt, and honey together in a large glass bowl or measuring cup for 3 minutes, stirring every minute and watching extremely carefully to make sure it does not overflow.  Alternatively, mixture can be boiled on the stovetop in a small saucepan.  Remove from heat and stir in the vanilla and baking soda.
Place the popcorn into a large brown paper bag and drizzle the syrup over the top of the popcorn.  Fold the bag down or scrunch it to seal, then shake vigorously to coat the popcorn.  Place the entire bag in the microwave and cook for 30 seconds and shake again.  Repeat two more times.  Transfer and spread onto a baking sheet to cool.
Blueberry Crunch Muffins
Mayfield HS freezes hundreds of pounds of local blueberries every summer, which they use all year long.  These blueberry muffins are a great way to use them up and fuel the students with a healthy breakfast/snack.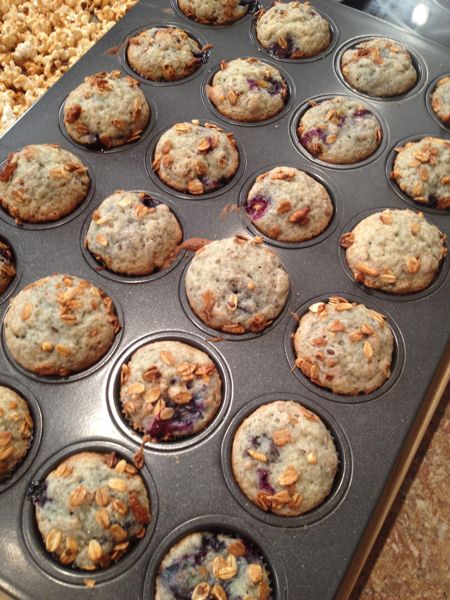 1 ½ cups flour
2/3 cup sugar
Pinch salt
2 tsp baking powder
1/3 cup vegetable oil
1 egg
1/3 cup milk
1 tsp vanilla
1 blueberries
½ cup granola, plus additional for topping
Stir together the flour, sugar, salt, and baking powder.  In a separate bowl, whisk together the oil, egg, milk, and vanilla.  Mix the wet ingredients into the dry, stirring gently.  Do not overmix.  Fold in the blueberries and granola.  Portion into greased or lined muffin cups and bake at 350 degrees until a toothpick inserted in the center of a muffin comes out clean (about 10-12 minutes for mini muffins, and 20-25 for standard).