My favorite way to spend Derby Day is with a deliciously packed picnic out at Keeneland. I'm always looking for Kentucky inspired recipes that would work well for the big races and here are three of them!
Pimento Cheese Deviled Eggs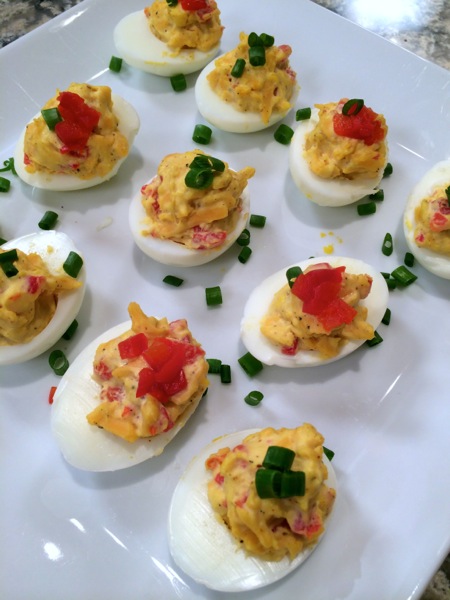 6 eggs, hardboiled
1 tsp mustard (we used KY Proud bourbon mustard)
1/4 cup mayonnaise
Pinch of freshly ground black pepper
1/4 tsp seasoned salt
1/2 cup shredded sharp cheddar cheese
2 tbsp diced pimentos, drained
Chives or pimentos, for garnish, optional
Cut each of the eggs in half and transfer the yolks to the bowl of a food processor. Process the yolks with the mustard, mayonnaise, pepper, and seasoned salt until smooth. Fold in the cheese and pimentos and scoop into the egg white shells, garnishing with chives or pimentos if desired.
Country Ham Pasta Salad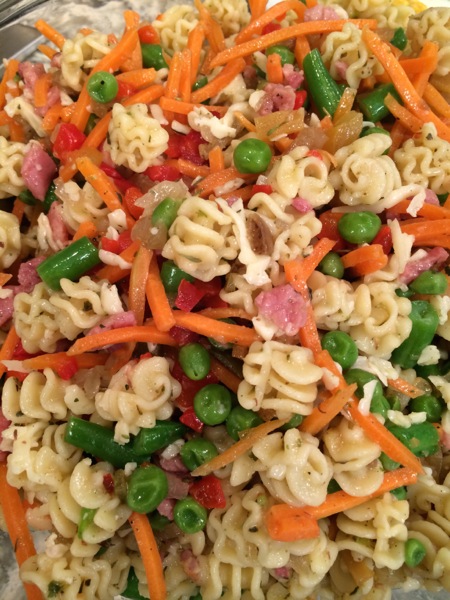 1/2 lb cooked "piecey" pasta such as macaroni or spirals
6 oz country ham, cooked and cubed
1/4 cup sweet onion relish
1/2 cup pickled summer squash, chopped
1/2 lb green beans, blanched and cut into small pieces
1 cup shredded carrots
1/2 cup peas
2 tbsp red wine vinegar
3 tbsp olive oil
1 tsp Italian seasoning
1/2 tsp garlic salt
1 cup grated Havarti cheese
Salt and pepper, to taste
In a large bowl, toss the cooked pasta with the country ham, onion relish, pickled summer squash, green beans, carrots, and peas. Dress this mixture with the vinegar, oil, Italian seasoning, and garlic salt. Add the cheese and season to taste with salt and pepper.
Mini Bourbon Cherry Cheesecakes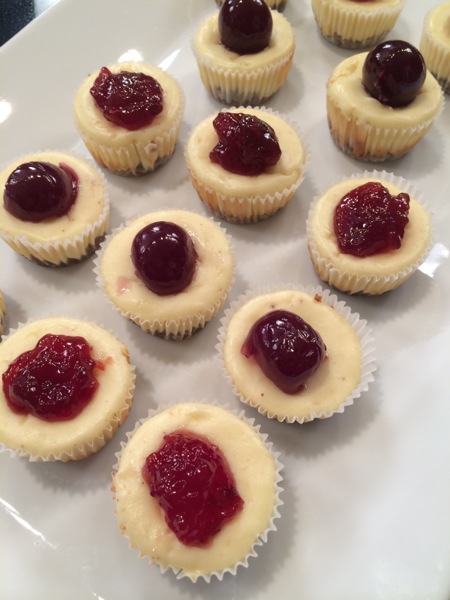 1/4 cup plus 2 tbsp graham crumbs
1/4 cup chopped pecans, toasted
1 tbsp unsalted butter, melted
1/4 cup sugar
1/4 teaspoon salt
1 8-oz package cream cheese
1 egg
1 tsp bourbon, optional
1/2 tsp almond extract
1/3 cup cherry preserves or Woodford Reserve bourbon cherries, halved
Line a mini muffin tin with 12-14 paper liners. In the bowl of a food processor, combine the graham crumbs and pecans and process to form fine crumbs. Add the butter and pulse to combine. Divide this mixture amongst the paper liners and press down into the cups to form a crust. In the same food processor bowl, combine the sugar, salt, cream cheese, egg, bourbon, if using, and almond extract. Process until smooth and scoop into the crust-lined cups. Bake at 350 until set, about 12-15 minutes. Cool completely, then top with a dollop of cherry preserves or halved bourbon cherries.