This week's meal was a fun mash up of holiday ingredients made into a healthy, creative plate. It's such a colorful, satisfying, and totally delicious menu. The meatloaf is super moist and flavorful, broccoli mash is so much more fun than plain mashed potatoes, and butternut squash noodles are easier, faster, and tastier than spaghetti squash.
Turkey Cranberry Meatloaf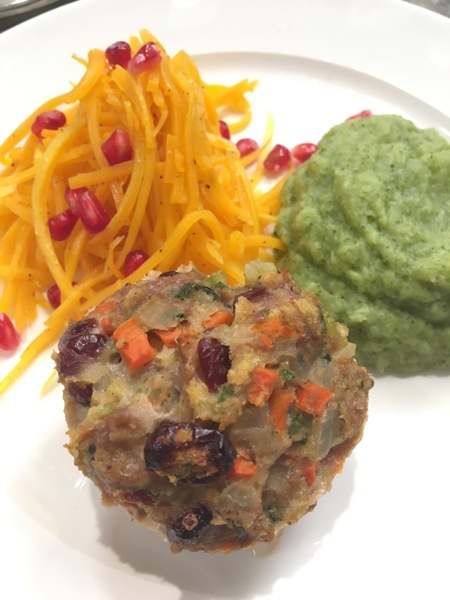 1 tbsp olive oil
1 onion, diced
3 ribs celery, diced
2 carrots, finely diced
1 tsp rubbed sage
2 eggs
1/2 cup chicken broth
2 cups seasoned stuffing mix
2 lbs ground turkey
1 1/2 tsp salt
1/2 tsp black pepper
2 tbsp chopped parsley
1/2 cup dried cranberries
Heat the olive oil in a medium skillet and sauté the onion, celery, and carrot until soft, about 4-5 minutes. Add the sage and allow to cool completely. Meanwhile, whisk the eggs and chicken broth together and combine with the stuffing to moisten. Add the turkey, salt, pepper, parsley, and dried cranberries. Scoop this mixture into lightly greased nonstick muffin tins, using an ice cream scoop to fill. This should make about 12-16 individual meatloaves. Bake at 350 degrees until a thermometer registers 160 degrees internally, about 30-35 minutes.
Broccoli Mash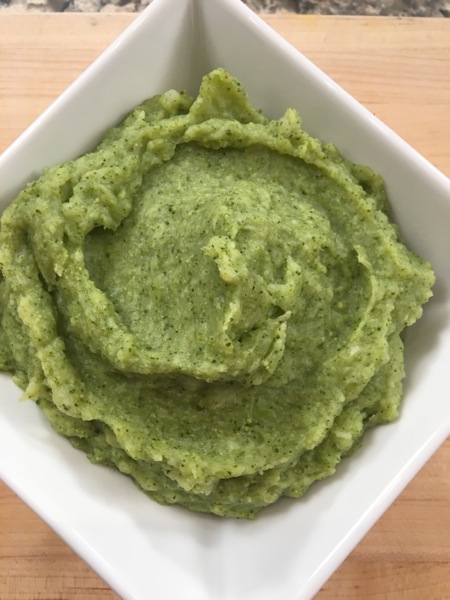 1/2 lb russet potatoes, peeled (2 medium potatoes)
2 broccoli crowns, separated into florets and stems
2 cups chicken broth, plus more as needed
Salt and pepper, to taste
Cut the potatoes and broccoli stems into large chunks, place into a pot, and cover with the chicken broth. The liquid should barely cover the vegetables. Simmer until tender when pierced with a fork. Place the florets on top and cover with a lid. There should be enough liquid in the pot to steam the broccoli florets. Steam until tender and puree with an immersion blender, adding additional broth, as needed. Water or milk can also be used. Season with salt and pepper.
Butternut Squash Noodles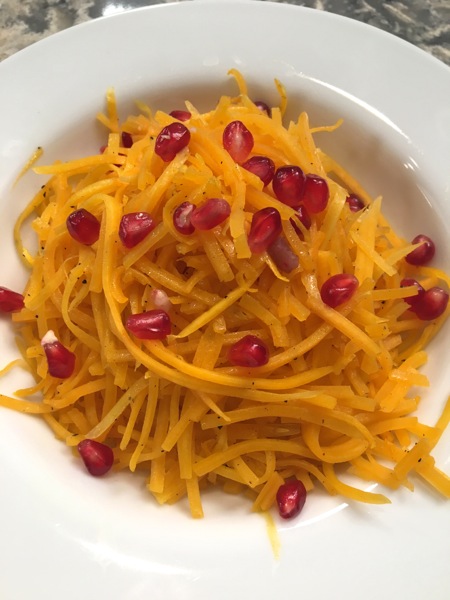 1 butternut squash, peeled
I tsp olive oil
1 tsp butter
Salt and pepper
1/2 cup pomegranate arils
Using a julienne peeler, mandoline, or spiralizer, shred the squash into long, noodle-like strands. Heat the olive oil and butter in a nonstick skillet over medium heat and saute the squash noodles until they are tender, about 3-4 minutes. Do not overcook or they will fall apart. Season with salt and pepper and sprinkle with pomegranate arils.