Labor Day has traditionally marked the end of summer: the kids are back in school, the weather starts to cool off, and the public pools close until next year. WAH. I'm in denial. We are still enjoying temperatures in the 90′s and produce is still coming in like crazy. The corn is as sweet as it's ever been (seriously, it's so sweet I'm actually suspicious–HOW do they get it so sweet?), peaches are the size of a softball, and tomatoes are at their most luscious and supple. If you want to throw together an awesome Labor Day cookout, this cobbler is super easy and so darn delicious. The juicy Italian Pork Sliders are a big time crowd pleaser and the Italian Street Corn is a messy, delicious departure from plain old butter and salt. Enjoy!
Peach Cobbler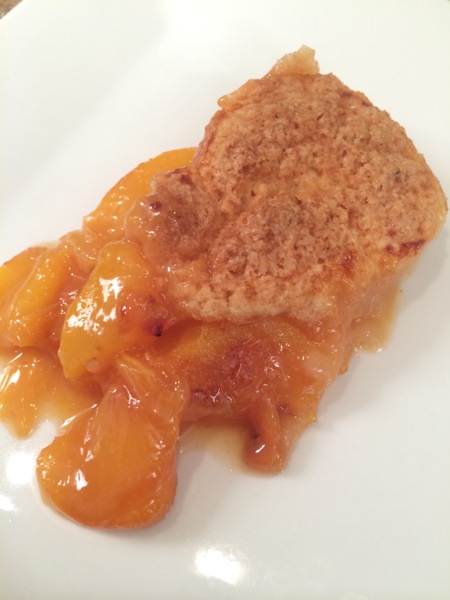 6 large or 8 small peaches, peeled
2 tsp lemon juice
1/4-1/3 cup brown sugar
2 tsp cornstarch
1 1/2 cups flour
3/4 cups sugar
1 1/2 tsp baking powder
3/4 tsp salt
1 stick unsalted butter, cold
1/4 cup plus 2 tbsp boiling water
Preheat the oven to 425 degrees.
Mix the peaches with the lemon juice, brown sugar, and cornstarch in a large bowl. Transfer to a 9×13 baking pan or casserole dish and bake fruit for 10 minutes. Meanwhile, mix together the flour, sugar, baking powder, and salt. Cut the butter into the dry ingredients until the mixture resembles coarse crumbs. This can be done by hand, with a pastry blender, or in a food processor. Add the boiling water and stir to form a dough. Drop the dough mixture by spoonfuls onto the hot fruit and continue to bake for 25-30 minutes, until cobbler is nicely browned and fruit is bubbly.
 Italian Pork Sliders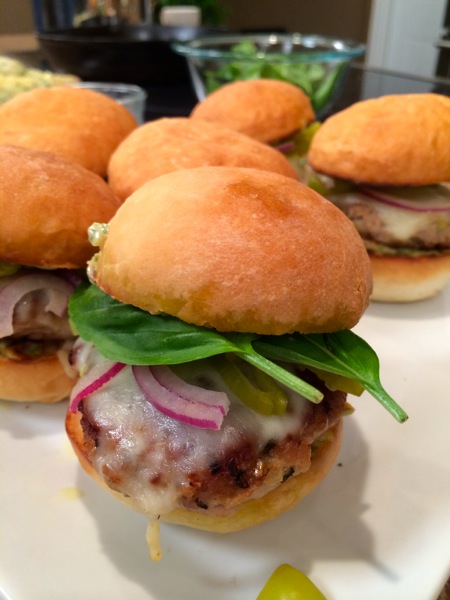 1 small red onion
1/2 lb ground pork
1/2 lb bulk Italian sausage
2 tbsp chopped basil
2 cloves garlic, minced
Salt and freshly ground black pepper
Olive oil, for greasing pan and toasting buns
3 slices mozzarella cheese, cut into quarters
6 small slider buns or dinner rolls, split
About 1/3 cup basil mayo, see recipe below in Italian Street Corn
1/4 cup sun dried tomatoes packed in oil, chopped
1/4 cup sliced pepperoncinis
12 leaves fresh basil
Finely dice half of the red onion and thinly slice the other half, reserving it to top the burgers. In a mixing bowl or in the bowl of a food processor, combine the diced onion, ground pork, sausage, basil, and garlic. Add 1/2 teaspoon salt and a few grinds of black pepper. Mix or pulse to combine. Divide this mixture into 6 portions and pat out into small patties to accommodate the size of your buns.
Heat a skillet over medium high heat with a small amount of olive oil. Cook the patties until nicely browned on both sides. Once the patties have been flipped, top with 2 small slices of cheese. In a separate pan or on a griddle greased with olive oil, toast the buns until warm and lightly toasted.
To assemble, mix the basil mayo with the sun dried tomatoes and spread a light layer of this mixture on either side of the buns. Add the patties, followed by the pepperoncini, sliced red onion, and whole basil leaves.
Italian Street Corn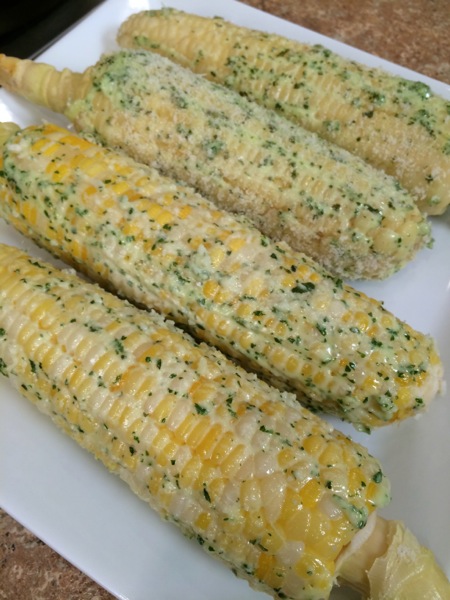 4 cobs of corn
1 cup mayonnaise
1 cup loosely packed basil leaves
1/2 cup finely grated Pecorino Romano or Parmesan cheese
Remove the husks and silks from each corn cob, but try to keep as much of the stem attached as possible to act as a handle. Bring a large pot of water to a boil and add the corn cobs. Bring back to a boil and cook just until tender, about 3-4 minutes.
To make the basil mayonnaise, process the mayonnaise with the basil in the bowl of a food processor until smooth and green. Slather the corn cobs with the basil mayonnaise and sprinkle with cheese to cover.