Instead of my usual All-American Memorial Day cookout, I thought I'd take us all to Mexico and grill up some flat iron fajitas. Truly, this was really just an excuse to try my hand at homemade tortillas. You know what I'm talking about–chewy, thin, almost-translucent tortillas that you only get at a super authentic, sorta sketchy taco stand. I made mine with leftover schmaltz (my refrigerator is a cross-cultural wonder) and they were so delicious that I made another batch later in the week using lard (equally delicious.)
Flat iron steak is my favorite summer cut because it grills and slices up SO beautifully with absolutely no gristle or fat to trim, unlike ribeye, which is my usual go-to. Give it a go next time they're on sale. You'll be pleasantly surprised at the flavor and tenderness, I promise. Follow up your fajitas with a crisp salad and you're good to go. Slice up a watermelon for dessert. Happy Memorial Day!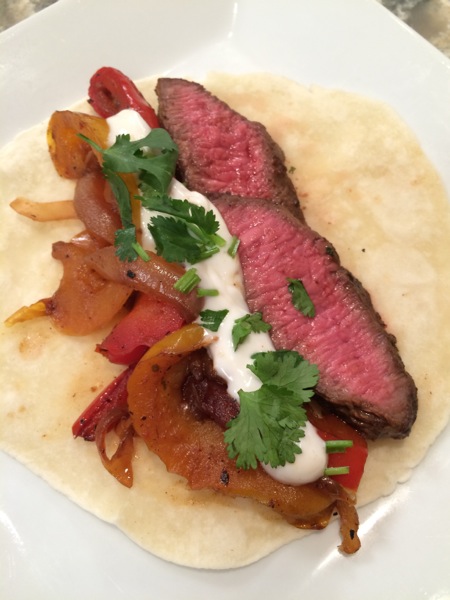 Homemade Flour Tortillas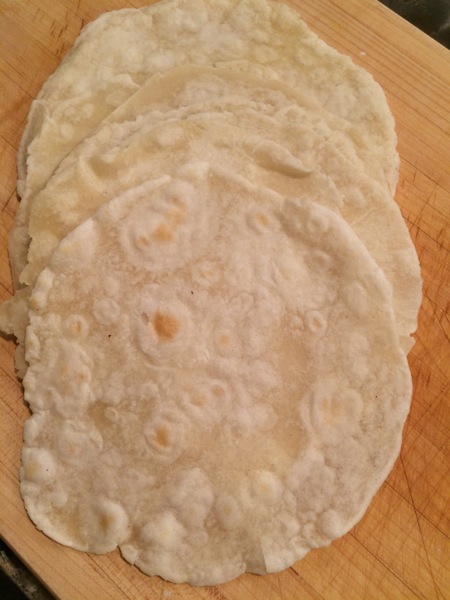 2 cups flour
3/4 tsp salt
3 tbsp lard, oil, butter, bacon grease, or chicken fat, melted, plus additional for cooking
1/2-2/3 cup warm water
In a medium bowl, stir together the flour and salt. Stir the melted fat into the warm water and add to the dry ingredients. Stir to form a dough and knead on a floured surface. Cover the dough and allow to rest for 30 minutes. Divide the dough into 10-12 equal portions and roll each into a ball. Using a rolling pin, roll each ball into the thinnest circle possible. Heat a nonstick or cast iron skillet over medium heat and brush with oil or lard. Cook the tortilla until it's lightly browned and turns from translucent to opaque, about 45 seconds-1 minute. Flip and cook on the other side. Repeat with the remaining dough.
Bourbon Garlic Flat Iron Fajitas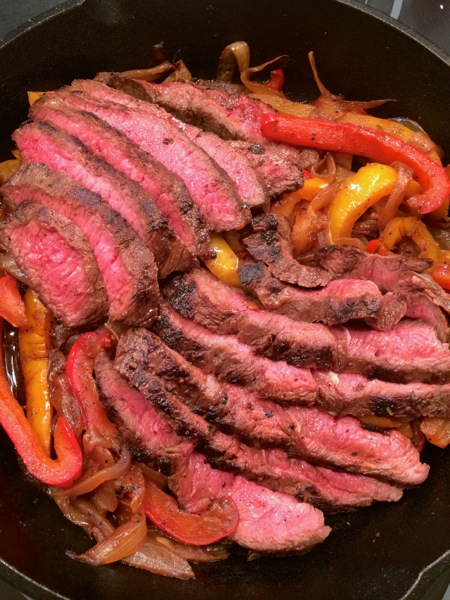 1 flat iron steak (about 1-1 1/4 lbs)
2 tbsp olive oil
2 tbsp soy sauce
1 tbsp bourbon garlic glaze (we used Rattlesnake Hill Farm)
2 tbsp cilantro stems, finely chopped
1 tsp Rattlesnake Hill Farm Gourmet Rub
Vegetables:
1/2 red bell pepper, julienne
1/2 yellow bell pepper, julienne
1/2 orange bell pepper, julienne
2 onions, sliced
1 tsp Rattlesnake Hill Farm Gourmet Rub
1/2 chili powder
1/2 tsp cumin
Rattlesnake Hill Farm Bourbon Garlic Glaze, for serving
Sour cream, for serving
Tortillas, for serving
Place the flat iron steak in a large resealable plastic bag. Add the olive oil, soy sauce, garlic glaze, cilantro stems, and rub seasoning. Marinate for at least 30 minutes. In a large bowl, toss the bell peppers with the onions, rub, chili powder, and cumin.
Heat a greased cast iron skillet over high heat and cook the steak for 4-5 minutes on each side, until medium rare or cooked to your liking. Remove the steak and allow to rest. Increase the heat to high and cook the vegetables until caramelized and softened, about 6-9 minutes. Slice the steak thinly and arrange it over the vegetables. To serve, stir a bit of the garlic glaze into the sour cream. Wrap the steak and vegetables in the fresh tortillas and top with a dollop of the garlic sour cream.
Crisp Cucuma Salad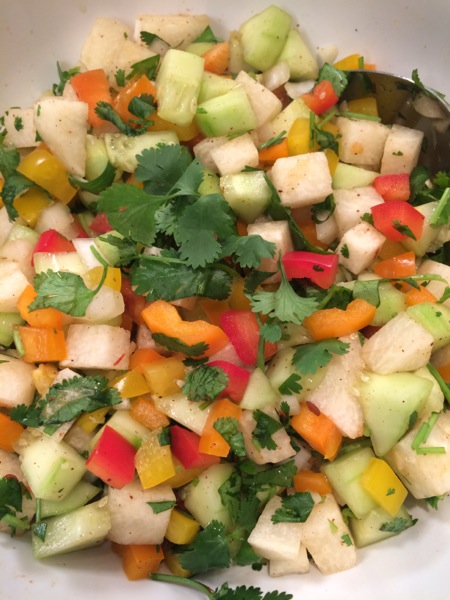 1 whole cucumber, peeled and diced (seeded if needed)
1 cup diced jicama
1/4 red bell pepper, diced
1/4 orange bell pepper, diced
1/4 yellow bell pepper, diced
1/4 onion, diced
1/4 cup cilantro, chopped
1/2 tsp salt (we used Lime Fresco salt), plus more to taste
1/4 tsp chili powder
2 tsp hot sauce, or more to taste
Juice of 1 lime
In a large bowl, toss all the vegetables with the cilantro, salt, chili powder, hot sauce, and lime juice. Season with additional salt and hot sauce to taste.