Pumpkin Cheesecake
1 cup gingersnap crumbs (from about 18-20 cookies)
2 tbsp butter, melted
1 8-oz package cream cheese
1 egg
1/2 cup sugar
1/2 cup pumpkin puree
1/2 tsp cinnamon
1/4 tsp nutmeg
Pinch salt
In a small bowl, combine the gingersnap crumbs with the butter and stir to form a sandy, slightly moist crumb. Divide into the bottoms of a lightly greased mini cheesecake pan land press the crumbs down to form a crust. Bake at 350 degrees for 5 minutes to set. Remove from oven and set aside.
In a food processor, process the cream cheese, egg, sugar, pumpkin puree, cinnamon, nutmeg, and salt to form a smooth batter. Divide the batter evenly amongst the crusts and bake until puffy and set, about 20 minutes. Cool completely and serve.
 Apple Cider Doughnut Cake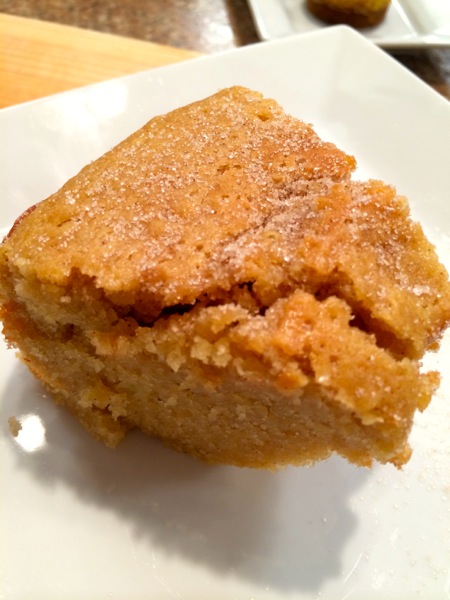 1 large apple (we used Winesap), peeled and chopped
1 1/2 cups apple cider
2 1/2 cups flour
1 1/2 tsp baking powder
1/2 tsp baking soda
1 tsp salt
1/4 tsp freshly grated nutmeg
1 tsp apple pie spice
1 stick butter, softened
3/4 cup sugar
1/2 cup brown sugar
3 eggs
1/4 cup vegetable oil
1/2 cup milk
1 tsp vanilla
For topping:
2 tbsp sugar
1/2 tsp cinnamon
Preheat the oven to 350 degrees.
Cook the diced apple in the apple cider in a small saucepan until cider is absorbed. Mash the apples with a fork or process to a puree.
Stir the flour, baking powder, baking soda, salt, nutmeg, and apple pie spice together in a large bowl. In a mixer, cream the butter and sugars together. Add the eggs, oil, milk, and vanilla. Alternately add the flour and apple mixture to form a batter. Transfer to a greased Bundt pan and bake for 40-45 minutes.
Stir together the sugar and cinnamon in a small bowl. Allow cake to cool for 10-15 minutes before unmolding. Invert the cake and sprinkle with the cinnamon sugar while warm.
Honey Nut Tart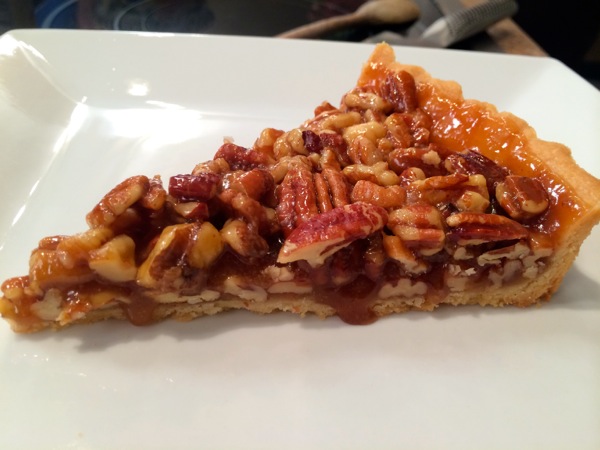 1 1/3 cups flour
1/4 cup plus 2 tbsp powdered sugar
1 stick butter, cubed
1/2 cup brown sugar
1/3 cup honey
6 tbsp butter
3 tbsp heavy cream
2 1/2 cups nuts, toasted (we used pecans and walnuts)
Preheat oven to 350 degrees. Pulse the flour, powdered sugar, and butter in the food processor to form coarse crumbs that will hold together in a buttery, somewhat dry dough. Press into the bottom of a lightly greased 9 inch tart pan with a removable bottom and bake until lightly browned, about 15-20 minutes.
In a small saucepan, bring the brown sugar, honey, butter, and cream to a boil and cook for 2-3 minutes. Add the nuts and stir. Spoon filling into the crust and bake at 350 degrees until brown and bubbly, about 25 minutes.