This week's episode is a perfect example of why I love, LOVE filming during the summer. The simplest things are usually the most delicious and I love how surprisingly good something that takes so little effort can taste.
I was super excited to have Paul Dengel and Abby Joe Clark on the show to talk about Homegrown By Heroes, a brilliant program launched by KY Proud that has now gone nationwide and continues to grow by leaps and bounds. Homegrown By Heroes helps our veterans find work and promote their businesses/products in the local agricultural and food arenas. Paul and Abby are both relatively new to farming, although you could never tell it by the quality of the produce they are growing and selling. They brought in heaps of vegetables and we were able to put a lot of it to good use, as you can see by the gorgeous photos and recipes below.
Tomato & Cucumber Bruschetta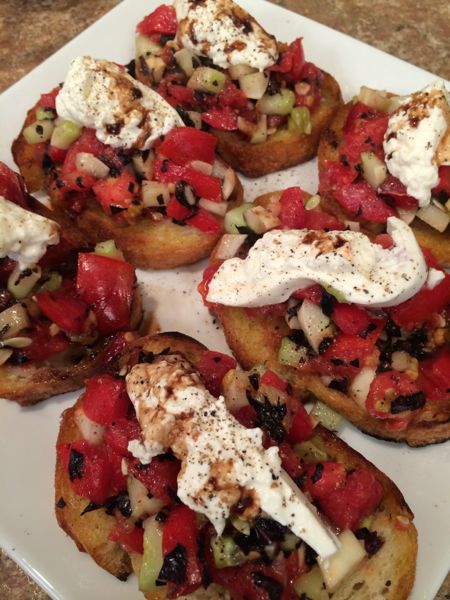 2 cups chopped tomatoes (about 6-8 small tomatoes or 2 large)
1 large cucumber, diced (peeled if skin is thick and seeded if seeds are large and bitter)
1/2 cup basil, chiffonade (we used Rosie basil)
3 cloves garlic, minced
1/4 cup olive oil (we used Stuarto's basil olive oil)
Salt and pepper, to taste
1 loaf crusty bread, sliced (we used a Bluegrass Bakery batard loaf)
2 large cloves garlic, for rubbing
1 ball burrata cheese, sliced
Balsamic vinegar, for drizzling
In a large bowl, combine the tomatoes, cucumber, basil, and garlic. Add 2-3 tbsp of the olive oil and season to taste with salt and pepper. Heat the remaining olive oil in a cast iron skillet or griddle and toast the bread slices until well browned and crisp on both sides. Rub the garlic cloves onto the bread, then top with generous spoonfuls of the tomato mixture. Top with a slice of buratta and a light drizzle of balsamic vinegar and eat right away.
Vegetable Fritters with Herb Mayo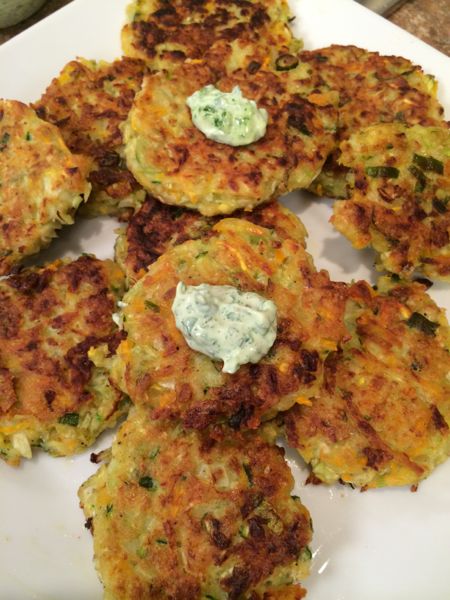 1 cup grated carrot
1 cup grated zucchini
1 cup grated yellow squash
1 1/2-2 cups (about 1/4 head) cauliflower, chopped finely in a food processor
1 green onion, sliced (including the white part)
1 egg
2/3-3/4 cup flour
Salt and pepper
Olive oil, for frying
1/2 cup mayonnaise
1/2 cup assorted herbs (we used parsley, basil, and green onions)
In a large bowl, mix together the grated carrot, zucchini, squash, chopped cauliflower, and green onion. Add the egg and 2/3 cup flour, adding more flour if needed to create a thick mixture. Pat the vegetable mixture into patties and fry over medium heat in a cast iron skillet coated in olive oil. Fry the fritters until they are nicely browned and crisp on both sides. Make a quick herb aioli by blending the mayonnaise and herbs in the bowl of a food processor or alternately, simply chop the herbs and stir them into the mayo.