On my Thanksgiving plate, turkey and ham tend to take a backseat to the nearly dozen side dishes we have. It is a side dish extravaganza!! The corn pudding, streuseled sweet potatoes, mashed potatoes, mac & cheese, broccoli casserole, stuffing (2 kinds!), oyster casserole, and green beans take up nearly every bit of plate and stomach space I have. And yet there's always room for something new, as many of our Thanksgiving guests are gracious enough to bring a favorite side dish to share.
Should you need some inspiration, I love all three of these recipes for different reasons. I love to have a bright, fresh vegetable side and I like this moist, cakey version of a corn casserole. And the leek bread pudding? Absurd. This was SO good we ate it for days as a dinner side dish, paired with chicken, salmon, or just vegetables. It's awesome and superbly simple, letting the incredible ingredients (leeks, brioche, gruyere, and cream!) speak for themselves. Happy T-day!
Cider Glazed Brussels Sprouts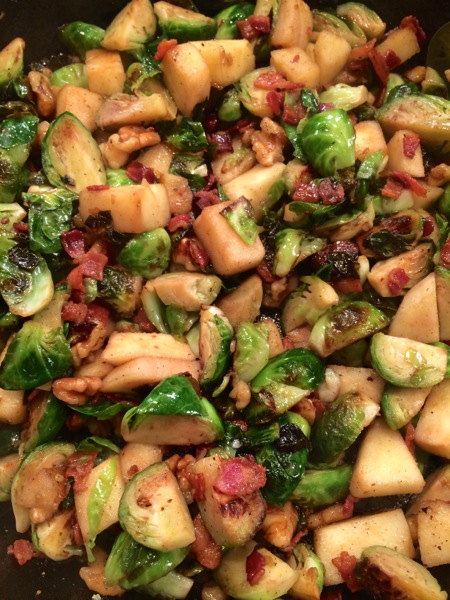 1 lb brussels sprouts, trimmed and quartered
1 firm, tart apple (we used Winesap), peeled and diced
1/2 cup apple cider
2 tsp apple cider vinegar
1/2 cup walnuts, toasted and roughly chopped
Salt and pepper
Cook the bacon in a large skillet over medium heat until crisp and brown. Remove with a slotted spoon and drain all but 1 tbsp of the bacon grease from the pan. Cook the brussels sprouts in the hot bacon grease until nicely caramelized and tender. Add the apple and cook for another 1-2 minutes. Transfer the brussels sprouts and apple to another dish and add the cider and vinegar to the pan. Simmer and reduce by about half to achieve a syrupy consistency, then add the sprouts and apple back to the pan, tossing to coat. Add the walnuts and season with salt and pepper.
Cornbread Pudding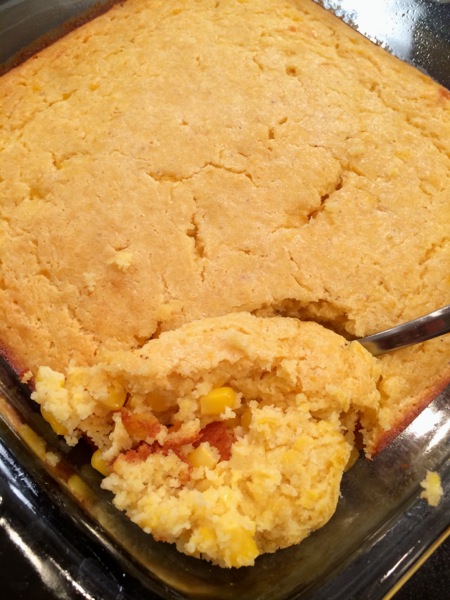 1 16-oz bag frozen corn, thawed
1/2 cup cornmeal
1/2 cup flour
3 tbsp sugar
2 tsp baking powder
1/2 tsp salt
2 eggs
1/2 cup milk
1/2 cup sour cream
1/2 stick butter, melted
Preheat the oven to 375 degrees. Using a food processor, puree about half the corn until it resembles creamed corn. Set this aside, along with the remaining corn kernels.
In a small bowl, whisk together the cornmeal, flour, sugar, baking powder and salt. In a larger bowl, whisk together the eggs, milk, and sour cream. Add the dry ingredients to this mixture and stir to combine. Fold in the pureed corn, reserved corn kernels, and melted butter. Transfer to a greased 9×9 inch baking dish and bake until browned and a toothpick inserted comes out clean, about 40-45 minutes.
Leek Bread Pudding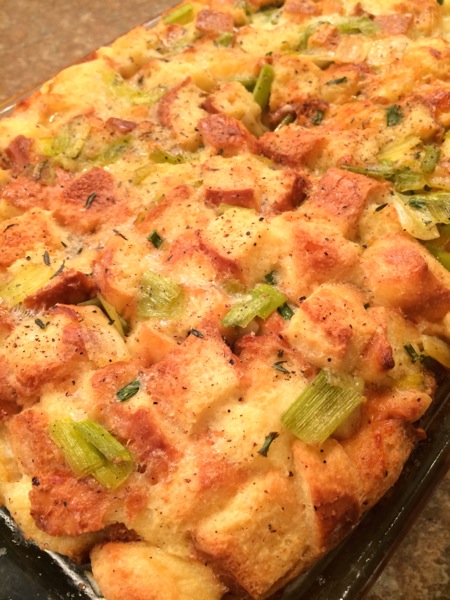 2 cups leeks, sliced into 1/2 inch thick pieces
2 tbsp butter
12 cups brioche or challah cubes (an eggy, buttery bread is best)
1 tbsp chopped chives
1 tsp thyme leaves, chopped
3 eggs
3 cups milk
2 cups cream
Salt and pepper
1/4 tsp freshly grated nutmeg
6 oz Emmentaler cheese, grated
Preheat oven to 375 degrees.
Place the leeks in a large bowl with cold water and swish to clean. The leeks should float to the top and any dirt will sink to the bottom of the bowl. Skim the leeks off the top of the bowl and add to a large sauté pan set over medium low heat. Add the butter and continue to slowly cook, stirring often, until leeks are wilted and soft.
Toast the bread cubes in the oven until lightly toasted and slightly dry. Transfer to a large bowl and toss with the leeks, chives, and thyme.
Whisk together the eggs, milk, and cream in a large bowl and season heavily with salt and pepper. Grate in the fresh nutmeg.
Lightly grease or butter a 9×13 inch baking pan and sprinkle with 1/3 of the cheese. Add half of the bread/leek mixture and another 1/3 of the cheese. Follow with the remaining bread and cheese, then pour the custard over the bread. Press the bread cubes down into the custard and leave for 10 minutes to soak up the liquid. Bake until center of pudding is puffy and set and edges are bubbling and brown,  about 40-45 minutes.