How are we almost in July?? I have LOVED the 4th of July since I was a kid. We got to stay up late, go out to see fireworks, and eat Mom's flag cake made with Sara Lee poundcake, Cool Whip, and fresh berries. I love my mom for embracing American holidays and celebrating the way we all know how–with food! I think she even had 4th of July plates, adorned with Lady Liberty.
This year, I wanted to amp up the ever-popular and well-loved hot dog Coney style! The Coney Island Hot Dog eating contest is my favorite "sporting" event and the one time a year that I'm the one in the household who wants to watch ESPN. A sloppy Joe-like sauce is the best accompaniment to organic, all-beef hot dogs on a soft bun. And you can forget the crisp diced onions and mound of fluffy, grated cheese!
For dessert, in keeping with berry tradition and all things red, white, & blue, I made two different berry cream shortcakes stuffed with a rhubarb berry mixture that is tart, sweet, and tastes of hot summer days. Happy 4th of July!
Strawberry & Blueberry Rhubarb Shortcakes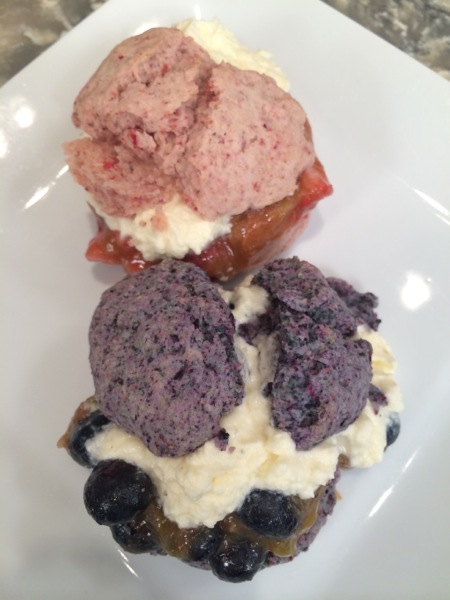 Fruit mixture & filling:
1 lb rhubarb, diced (about 4 cups)
Juice of 1/2 lemon
1/2 cup sugar, plus more to taste
2 cups blueberries, halved
2 cups strawberries, sliced
Sweetened whipped cream, for serving
In a large saute pan or medium saucepan, combine the diced rhubarb with the lemon juice and sugar. Simmer over low heat for 5-10 minutes, until rhubarb is tender and begins to fall apart. Remove from heat and divide in half. Add half of the rhubarb mixture to the blueberries and the other half to the strawberries. Allow to sit and macerate for 10-15 minutes. Add additional sugar to taste, if desired.
Blueberry Cream Shortcakes:
1 cup flour (we used Weisenberger)
1/2 cup freeze dried blueberries
1 tbsp sugar
1 tsp baking powder
1/2 tsp salt
3/4 cup cold heavy cream (we used JD Country)
Strawberry Cream Shortcakes:
1 cup flour (we used Weisenberger)
1/2 cup freeze dried strawberries
1 tbsp sugar
1 tsp baking powder
1/2 tsp salt
3/4 cup cold heavy cream (we used JD Country)
Preheat oven to 425 degrees.
To make each batch of shortcakes, combine the flour, freeze dried fruit, sugar, baking powder, and salt in the bowl of a food processor. Process until the fruit is powdered and the strawberry mixture is light pink and the blueberry mixture is a light violet. Transfer the dry mixture to a medium bowl and add the heavy cream. Stir to form a soft dough and divide each batch into 6 portions. With floured hands, shape each portion into a biscuit-shaped disk and transfer to a parchment lined baking sheet.
Bake for 10-12 minutes, until biscuits are puffed and lightly browned on the bottom. Cool slightly, split, and fill with the berry rhubarb mixtures and sweetened whipped cream.
KY Proud Coneys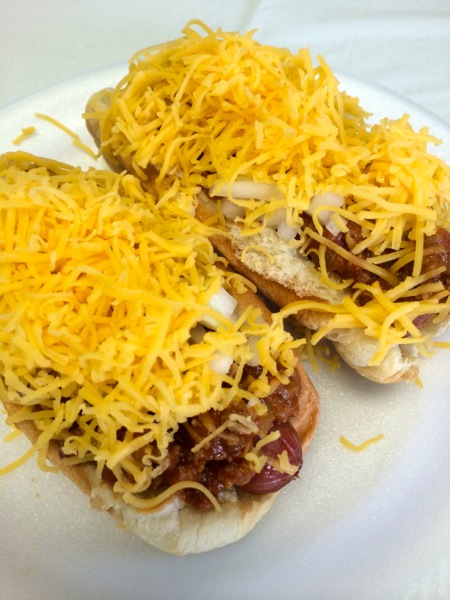 1 lb ground beef (we used Marksbury Farm ground beef)
1 Vidalia onion, finely diced
1 cup tomato sauce or tomato puree
1/2 cup ketchup (we used Grandma Carolyn's Ketchup)
2 tbsp mustard (we used Kentucky Smokin' Grill Grande Reserve Mustard)
1 tsp Worcestershire sauce (we used Bourbon Barrel Foods Worcestershire Sauce)
1 tsp hot sauce (we used Sav's Piment)
Salt and pepper, to taste
8 hot dogs, scored with a paring knife
8 hot dog buns
3/4 cup diced onion, to garnish
1 1/2 cups finely shredded Cheddar cheese
To make the Coney sauce, cook and crumble the ground beef in a medium saucepan. Add the diced onion and cook for 3-4 minutes. Add the tomato sauce, ketchup, mustard, Worcestershire sauce, and hot sauce and simmer for 15-20 minutes. Season well with salt and pepper and if needed, thin with a bit of water. Grill or pan fry the hot dogs and place in buns. Spoon Coney sauce over the hot dogs and garnish with onion and grated cheese.