I love being surprised by new items at the Farmer's Market. Sometimes it's the first of the season's fruit, other times it's something unusual like fava beans or garlic scapes. On this particular trip to the Tuesday market, I came away with tomatillos and poblano peppers, perfect for green chicken enchiladas. It's also rare for me to find raspberries this late in the summer, so a raspberry ice cream pie seemed like the perfect way to showcase such a delicious market find.
Tomatillo Chicken Enchiladas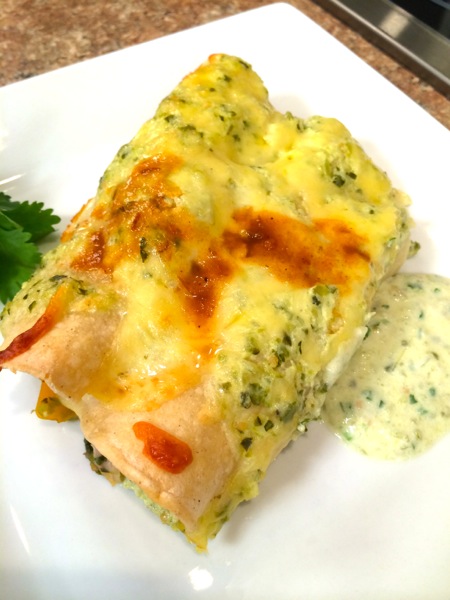 10 tomatillos (about 2 lbs), husked and halved
3 cloves garlic
1 small onion, thinly sliced
2 small poblano peppers, julienne
6 boneless skinless chicken thighs (about 1 lb)
1/2 cup cilantro
Juice of 1 lime
10-12 corn tortillas
Salt and pepper, to taste
1 cup sour cream
2 cups grated monterey jack cheese
Place the tomatillos, garlic, onion, peppers, and chicken thighs in a pot. Add 2 cups water and bring to a simmer, cooking until tomatillos are soft and chicken thighs are cooked thoroughly. Remove the thighs from the tomatillo mixture and shred the meat. Using a slotted spoon, transfer the tomatillos and vegetables to a food processor. Add the cilantro and pulse, adding the cooking liquid as needed to thin to a smooth salsa. Season to taste with salt and pepper. Spread about 1/2 cup of the salsa in the bottom of a 9×13 baking pan and add 1 cup of the salsa to the shredded chicken thighs. Place a mound of the meat and salsa mixture onto the center of a tortilla and roll up. Place seam-side down onto the baking pan and repeat until all the filling is used. Mix the sour cream into the remaining salsa and pour over top. Top with grated cheese and bake at 400 degrees until cheese is melted and mixture is bubbly, about 15-20 minutes.
Raspberry Ice Cream Pie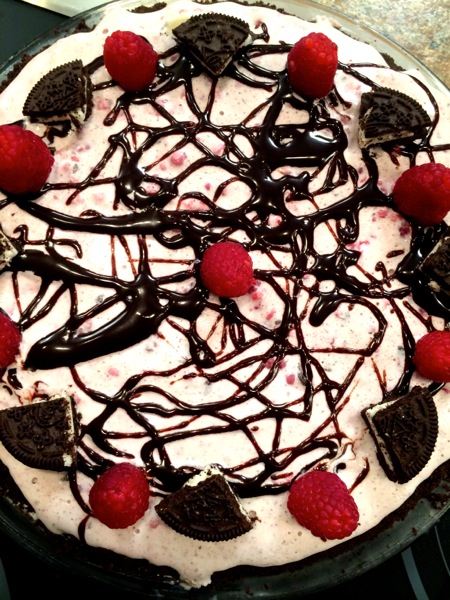 20 chocolate sandwich cookies
3 tbsp butter, melted
1 1/2 quarts ice cream (we used Cookies & Cream)
1 1/2 cups raspberries
1/4 cup chocolate sauce (we used Ward's Kentucky Specialties Bourbon Chocolatier Sauce)
In the bowl of a food processor, grind the cookies to a fine crumb. Add the melted butter and process to blend. Press this mixture into the bottom of a 9 inch pie pan and place in freezer to set. Meanwhile, soften the ice cream slightly by placing on the counter for 10-15 minutes or microwave for 10 second intervals until soft enough to scoop easily. Transfer the ice cream to a large bowl and mix in the raspberries. Transfer this mixture to the crust and smooth the top. Place back in freezer until firm, about 2-4 hours. Drizzle with chocolate sauce, slice, and serve.