I've never been an organized shopper. I don't stick to a list and I'm always weaving back and forth in grocery aisles in a rather illogical way. I'm even worse at the Farmer's Market. At the grocery store, I'll at least get all my dairy and meats at once and maybe take two trips through produce. At the Farmer's Market, I have to make a complete loop and scope out all the vendors. Sometimes I'll make an initial purchase or two. Then I stop to chat, price compare, google a recipe or five, run through the ingredients I have at home, attempt to put together one or two full show menus of 3 recipes each, and then fill in the ingredients with whatever's available that day.
My sister Christine was in town this week (YAY!) and we went straight from picking her up at the airport to the Tuesday market. I picked up peaches, blueberries, onions, and broccoli for a summery supper of pork tenderloin, roasted broccoli, and a fruit buckle. In my dream world, I'd shop and cook like this all year round.
Peach Bourbon Pork Tenderloin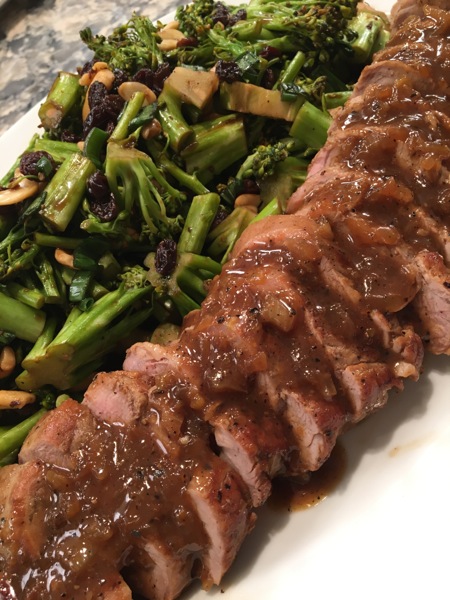 2 pork tenderloins (about 1-1 1/4 lbs each)
Salt and pepper
1 tbsp olive oil
1 tbsp butter
1 shallot or 1/4 yellow onion, finely diced
1/3 cup peach jam
1/4 cup bourbon
2 tbsp banana pepper mustard
2 tbsp water, plus more if needed
Season the pork tenderloin well with salt and pepper. Heat the oil in a large sauté pan over high heat and sear the tenderloin on all sides until nicely browned. Transfer the tenderloin to another platter and set aside. Melt the butter in the same pan and sauté the shallot or onion until soft, about 3-4 minutes. Add the peach jam, bourbon, and mustard and stir to combine. Thin the sauce with water, if needed. Place the tenderloin back in the pan, turning to coat. Bake at 375 degrees for about 15-20 minutes or until pork is cooked to medium, about 140 degrees on a meat thermometer. Let stand for 10 minutes before slicing.
Roasted Balsamic Broccoli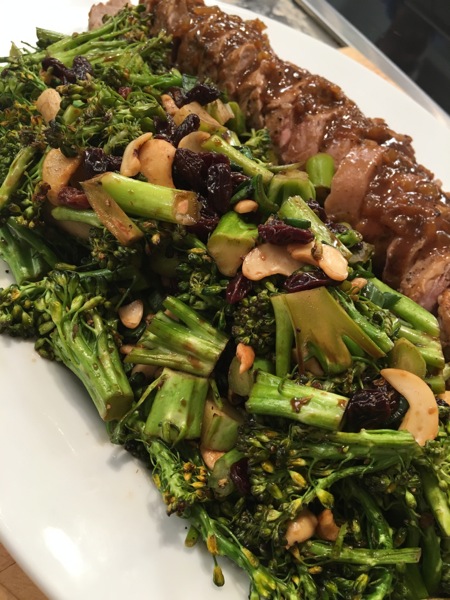 1 head broccoli, broken into florets
Olive oil
Salt and pepper
2-3 tbsp balsamic vinegar
2 green onions, minced
1/3 cup raisins
1/3 cup cashews
Arrange the broccoli on a baking sheet and drizzle with olive oil, salt, and pepper. Roast at 375 degrees for 12-15 minutes, until tender but still crisp. Toss with balsamic vinegar, green onions, raisins, and cashews.
Peachberry Buckle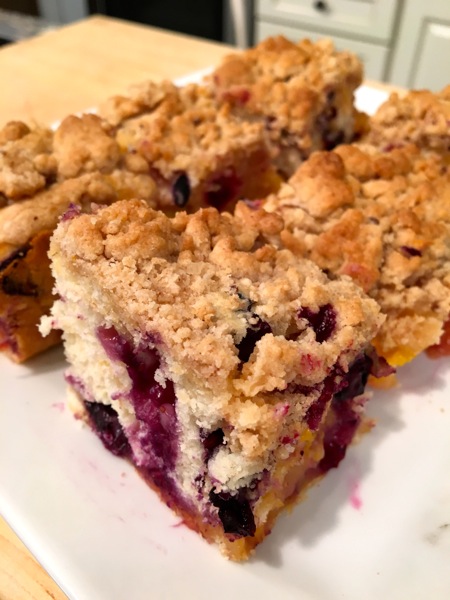 1 3/4 cups flour
1/4 cup cornstarch
1 tsp baking powder
1/2 tsp salt
1/2 stick butter, softened
1/2 cup sugar
1 egg
1 tsp vanilla
3/4 cup yogurt (1 6-oz container)-we used peach
2 cups peach slices, about 3-4 small peaches
1 cup blueberries
Streusel topping:
1/2 stick butter, softened
3/4 cup flour
1/4 cup brown sugar
1/2 tsp cinnamon
1/2 tsp almond extract
Preheat the oven to 375 degrees.
In a small bowl, whisk together the flour, cornstarch, baking powder, and salt. In the bowl of a stand mixer, cream the butter with the sugar until light and fluffy. Add the egg and vanilla and mix to combine. Add half the flour and mix to combine, then add half the yogurt and mix again. Repeat with the remaining flour and yogurt. Lastly, fold in the blueberries and peaches. Transfer this mixture (the batter will be thick) to an 8×8 baking dish lined with foil and lightly greased.
In a small bowl, combine the butter, flour, brown sugar, cinnamon, and almond extract, crumbling it with your hands to form a sandy, crumbly texture. Sprinkle this mixture over the buckle batter and bake until a knife inserted comes out clean, about 30-35 minutes.