I feel like I'm starting to say the same thing every week–"summer is in full swing and this menu really showcases local produce for a perfect hot evening menu." But it's true! I love this week's recipes, as the chicken and squash & corn pudding are super satisfying and elegant enough to serve for a dinner party. If I was serving for a party, I'd likely bake the puddings in individual ramekins for easier and prettier serve out. The chicken recipe was my attempt to recreate Carabba's Chicken Bryan and it came pretty close! It's fresh, flavorful, and most importantly, easy and quick.
The squash & corn pudding is a riff on a traditional holiday corn pudding with the addition of sautéed squash. I love it because it doesn't have that cloying sweetness of Thanksgiving corn pudding, but is plenty sweet thanks to the fresh corn. And the peach vinaigrette took a plain green salad to a whole new level! It's a great way to use up an overripe or bruised peach and really brings a bright fresh flavor, color, and nice consistency to an otherwise ordinary dressing.
Tomato Basil Chicken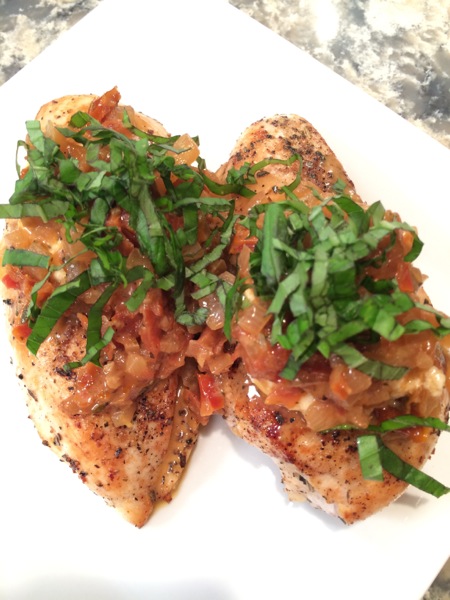 1 tsp olive oil
2 boneless chicken breasts
Salt and pepper
1 tsp Bruce's Barnyard Rub seasoning
4 tbsp butter, divided
1/2 Vidalia onion, diced
2 cloves garlic, minced
1/2 cup white wine
Juice of 1/2 lemon
1/3 cup sundried tomatoes, chopped
2 tbsp fresh basil
2 oz goat cheese
Heat the olive oil in an ovenproof medium sauté pan and season the chicken breasts with salt, pepper, and seasoning. Sear the chicken breasts on both sides for about 2-3 minutes, until nicely browned and caramelized. Transfer the pan to a 350 degree oven until chicken is cooked through, about 15 minutes depending on thickness. Remove pan from oven and transfer chicken to a separate plate. Being careful of the hot handle, transfer the pan to a burner on medium heat and melt 1 tbsp butter. Saute the onion and garlic until translucent, about 3-4 minutes. Deglaze the pan with the white wine and lemon juice and simmer to reduce the wine by about half. Turn the heat to low and swirl in the remaining 3 tbsp of butter and stir in the sundried tomatoes. Season to taste with salt and pepper. Divide the goat cheese among the two chicken breasts, either in crumbles or a large coin, and top with the sauce. Finish with the fresh basil and serve.
Squash and Corn Pudding
1 tbsp butter
1 leek, white part only, sliced
1 lb assorted summer squash, diced (we used zucchini, yellow crookneck, and pattypan)
3 ears corn, shucked
3 whole eggs
1 cup half and half
Salt and pepper
1/4 tsp freshly grated nutmeg
1 cup grated cheese (we used Kenny's Tomme de Nena)
Heat oven to 350 degrees. Heat the butter over medium heat in a large sauté pan and sauté the leek for 2-3 minutes. Add the zucchini and corn and cook until vegetables are tender, about 4-5 minutes. In a separate bowl, whisk together the eggs, half and half, a big pinch of salt and pepper, and nutmeg. Fold in the vegetables and cheese and transfer to a buttered baking dish. Bake until custard is set, about 35-40 minutes.
Green Salad with Peach Vinaigrette
1 ripe peach, peeled and pitted
3 tbsp white balsamic vinegar (we used Stuarto's Peach White Balsamic)
1 tbsp honey
1/4 cup basil leaves, chiffonade
1/4 cup olive oil
Salt and pepper
Large bowl of lettuce leaves, i.e. Romaine, butter lettuce, arugula or spring mix
In the bowl of a food processor, puree the peach with the balsamic vinegar and honey. Add the basil leaves and with the machine running, stream in the olive oil. Season with salt and pepper and toss with lettuce leaves.