Brrr! It's cold, snowy, and the kind of weekend for cozying up at home and making a grand, gourmet breakfast like this one. Then eat it and take a nap. This potato casserole was insanely delicious–one of those recipes that exceeded my expectations and truly one of the best things I've made in recent memory. Pancakes were in honor of my good friend Jon P, who just left Fox for a new gig. He loves pancakes and I did them up extra special with bacon, bourbon, maple syrup, and butter. The green eggs? Well, we needed something relatively healthy to make up for all the carbs
Potato Leek Casserole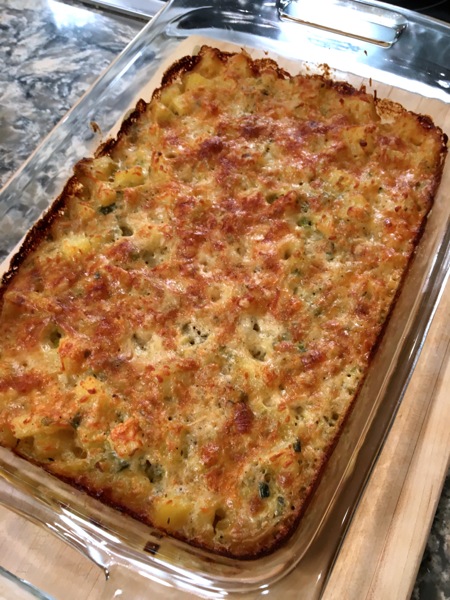 2 tbsp butter
1 large whole leek (white and dark green parts), sliced and rinsed
2 lbs yukon gold potatoes, peeled and diced
1 cup half and half
1 cup chicken stock
2 cloves garlic
6 sprigs thyme
Salt and pepper
1/2 cup grated gruyere cheese
1/2 cup grated parmesan cheese
In a large skillet, melt the butter over medium heat and sauté the leeks until soft. Add the potatoes, half and half, chicken stock, garlic, thyme, and a pinch each of salt and pepper. Cook until potatoes are tender, remove thyme stems, and season to taste with salt and pepper. In a small bowl, stir the gruyere and parmesan cheeses together. Add half of the cheese to the potatoes and transfer to a casserole dish. Top with remaining cheese and bake at 375 degrees until brown and bubbly, about 20-25 minutes.
Sour Cream Bacon Pancakes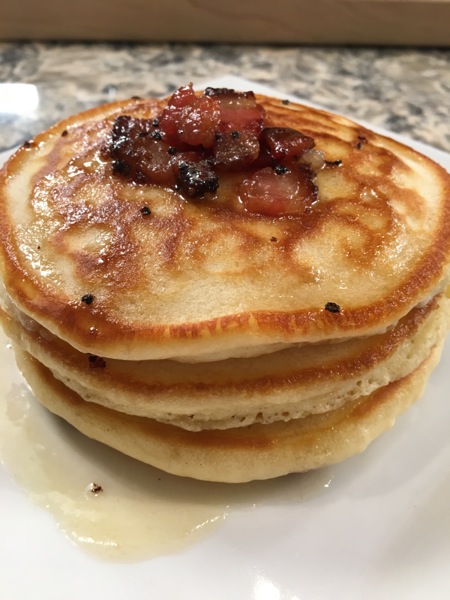 1 1/2 cups flour
1 tsp baking powder
1 tsp baking soda
1 tsp salt
1/2 cup sour cream
3/4 cup milk
2 eggs
2 tbsp maple syrup
2 tbsp melted butter, plus more for cooking
4 slices bacon, diced and cooked until crisp
In a large bowl, stir together the flour, baking powder, baking soda, and salt. In a separate bowl, whisk together the sour cream, milk, eggs, and maple syrup. Pour over the dry ingredients and gently stir to combine. Fold in the melted butter and cooked bacon. Alternately, bacon can be added to each individual pancake as you cook them. Ladle the batter onto a buttered skillet or griddle and cook until edges are crisp, lacy, and pancakes are golden brown.
Bourbon Bacon Syrup
2 slices bacon, diced and cooked until crisp
1/3 cup maple syrup
1 tbsp bourbon
1 tsp vanilla extract
2 tbsp butter
In a small saucepan, gently heat the bacon, maple syrup, bourbon, vanilla, and butter. Serve over pancakes.
Green Scrambled Eggs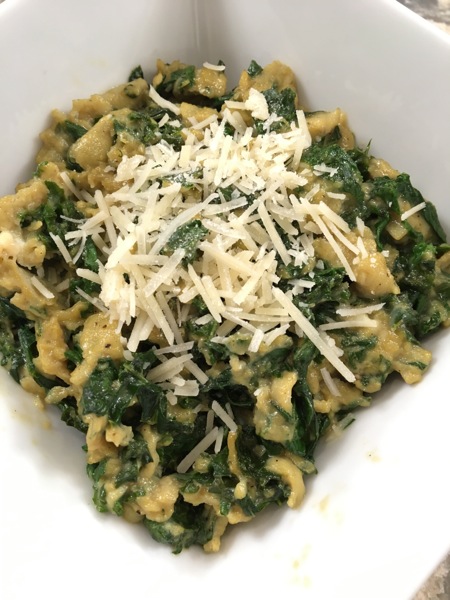 1 tsp olive oil
1 cup shredded kale (about 2-3 leaves)
8 eggs, beaten
Seasoned salt and pepper
In a nonstick skillet, heat olive oil and saute the kale until wilted, about 3-4 minutes. Add the beaten eggs and gently scramble until set. Season with salt and pepper.