We've been packing and moving for what feels like an eternity now. We had to be out of our old house at the end of November, stayed in a temporary furnished townhouse for almost 6 weeks, and are settling into our new home. Add a busy toddler to the mix and I have officially joined the ranks of mamas who have no idea what to fix for dinner. This week alone, we've eaten out three times (Chinese, Mexican, and pizza, in that order) and all I want now is something home cooked and healthy. I loved all these recipes and I was grateful for their leftovers while we were in transition between houses.
Ginger Glazed Chicken Thighs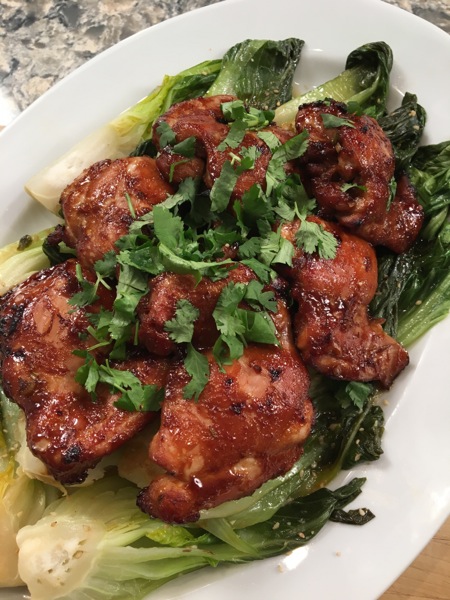 1/3 cup hoisin sauce
2 tbsp soy sauce
2 tbsp toasted ginger syrup
2 tbsp hot sauce (we used Screamin' Mimi's Sweet & Sour sauce)
1 tbsp grated ginger
2 scallion whites, sliced
6-8 boneless, skinless chicken thighs
To make the marinade, stir together the hoisin sauce, soy sauce, ginger syrup, hot sauce, grated ginger, and scallion whites. Mix marinade and divide in half. Using a fork, prick the chicken thighs and pour half of the marinade on top. Refrigerate for at least 30 minutes. Arrange the chicken thighs onto a foil lined baking sheet. Turn the oven on broil and cook the chicken for 5 minutes, then flip and brush with the reserved marinade. Cook for another 5-10 minutes, until chicken is cooked through and well caramelized.
Sesame Bok Choy
2 tsp peanut or vegetable oil
2 cloves garlic, minced
1 tsp ginger, minced
3-4 bunches baby bok choy, halved lengthwise
1 tsp sesame oil
1 tsp sesame seeds
Heat oil in a large sauté pan over high heat and sauté the garlic and ginger for 30 seconds, stirring constantly. Add the bok choy and stir fry for 1 minute. Add 2 tbsp water and cover with a lid to steam until tender, about 6-8 minutes. Drizzle with sesame oil and sprinkle with sesame seeds.
Spiced Lamb & Chickpea Stew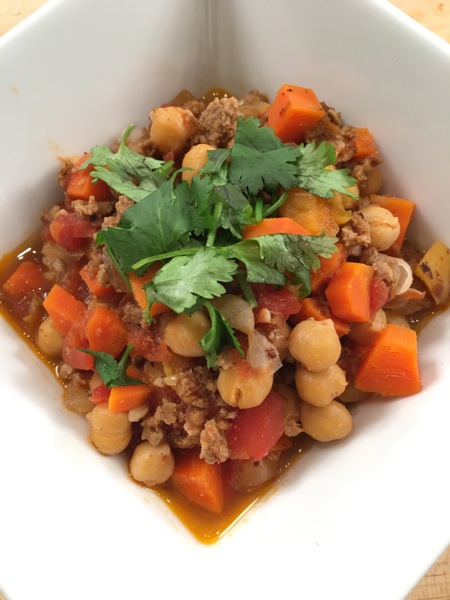 1 tbsp olive oil
1 lb ground lamb
1/2 large onion, diced
3 cloves garlic, minced
2 tbsp ginger, minced
3 carrots, diced
1 tsp cumin
1/2 tsp cinnamon
1/2 tsp ground coriander
1 14.5-oz can diced tomatoes
1 tbsp tomato paste
2 14.5-oz cans chickpeas, rinsed and drained
4 cups beef broth
1/4 cup dates, diced
1/4 cup dried apricots, diced
Salt and pepper, to taste
Chopped cilantro, for garnish
In a large pot, heat the olive oil over medium heat and cook and crumble the lamb. Add the onion, garlic, and ginger and cook for 1-2 minutes. Add the carrots, cumin, cinnamon, coriander, tomatoes, tomato paste, chickpeas, beef broth, dates, and apricots. Bring to a simmer and cook for about 20 minutes, until the carrots are tender and the stew has thickened. Season with salt and pepper. Serve over Toasted Almond Rice and garnish with cilantro.
Toasted Almond Rice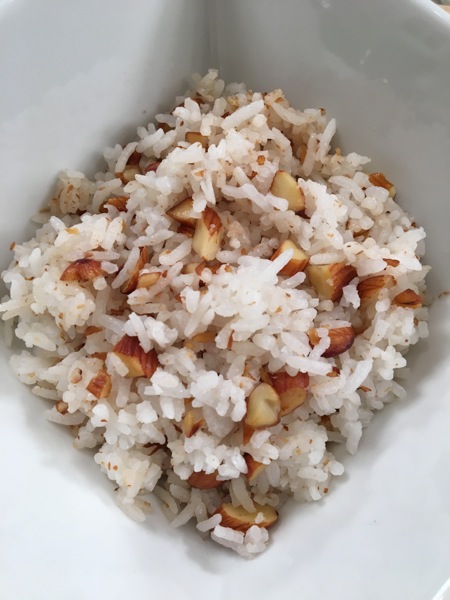 1 cup jasmine rice, rinsed
1/2 tbsp butter
1/4 cup raw almonds, chopped
Cook the rice in a rice cooker or in a small pot on the stovetop. Your ratio of water to grain may vary, but I use about 1 1/4-1 1/2 cups water to every 1 cup of rice. In a small nonstick pan, heat the butter over medium heat and toast the chopped almonds until fragrant. Fold the buttery almonds into the cooked rice.