I love soup. It's easy to make, it's easy to eat, and even when my fridge seems bare, I can almost always scrape together broth and some veggies. Soup is also one of the best things to make if you've resolved to eat better in 2017–it's so satisfying, without making you feel heavy and weighed down. Vegetable soup is a classic that everyone should know how to make. And if you're feeling a little more daring, clam chowder is a welcome treat in our house. It's 100 times better than canned chowder and one of those soups that isn't served in many restaurants here in town. Making it at home is easy, fairly economical, and incredibly delicious. Lastly, cheese toast! Can't have soup without some crusty bread to accompany it.
Classic Vegetable Soup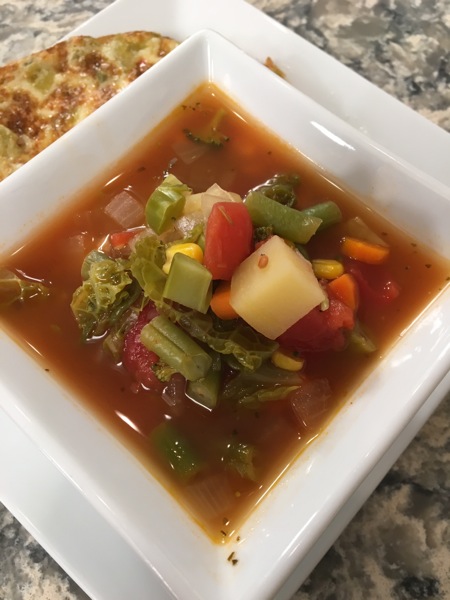 2 tsp olive oil
1 medium onion, diced
4 cloves garlic
2-3 carrots, diced (about 1 cup)
1 28-oz can diced tomatoes
2 quarts vegetable broth
1 tsp dried herbs
2 sprigs thyme minced
1/2 lb potatoes, peeled and diced (about 2 cups)
1 cup diced green beans
1 cup chopped broccoli
1 cup shredded cabbage
1 cup frozen corn kernels
Salt and pepper, to taste
In a large pot, heat the olive oil over medium high heat and sauté the onion, garlic, and carrots for 3-4 minutes. Add the diced tomatoes, broth, dried herbs, thyme, and potatoes. Bring to a simmer and cook for about 10 minutes to give the potatoes a head start. Add the green beans, broccoli, and cabbage and cook for an additional 10 minutes. Add the corn last, then season well with salt and pepper, to taste.
New England Clam Chowder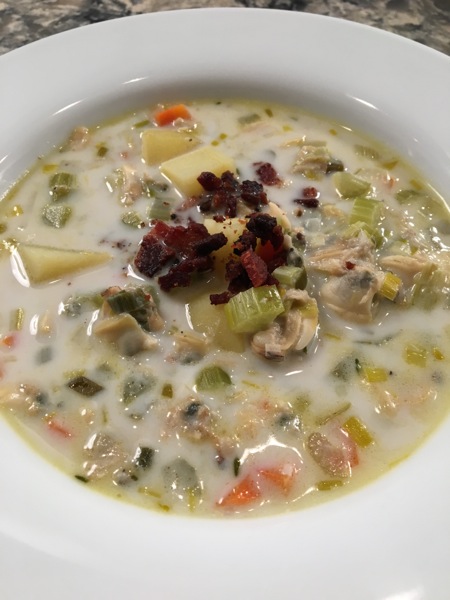 4 strips thick sliced bacon, cut into 1/2 inch dice
1 large or 2 small leeks, white, light green, and dark green parts, sliced (about 2 cups)
2 tbsp flour
1/2 cup white wine
8 oz clam juice
2 ribs celery, diced
2 carrots, diced
1/2 lb potatoes, peeled and diced (about 2 cups)
4 sprigs thyme
1 10-oz can clams in juice
1 10-oz package frozen clam meat, thawed
2 cups milk or half n half, plus more to thin if desired
Salt and pepper, to taste
In a medium pot, cook the bacon until crisp and remove with a slotted spoon to drain. Add the leeks to the pot and wilt in the bacon grease. Add the flour and stir to form a roux. Cook for 1-2 minutes, then add the wine and clam juice. Add the celery, carrots, potatoes, and thyme and simmer until potatoes are tender, about 12-15 minutes. Add the clams in juice, clam meat, and milk or half and half. Season with salt and pepper and thin with additional dairy as needed.
Broiled Cheese Toast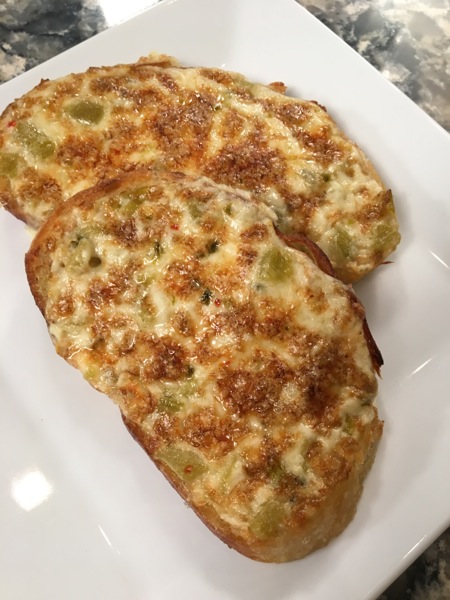 1/2 cup mayonnaise
2 cups shredded pepper jack cheese
1 4-oz can diced green chiles
1 tsp hot sauce
1 loaf sourdough bread, sliced
Turn the oven to broil. In a small bowl, stir together the mayonnaise, shredded cheese, chiles, and hot sauce. Slather on to slices of sourdough and arrange on a baking sheet. Broil for 3-5 minutes, until the tops are brown, toasty, and bubbly. Serve immediately.