Our family traditionally has prime rib on Christmas Day, but Christmas Eve usually lends itself to something a little more casual and family-style. An Italian menu has become our go-to comfort meal of choice and I love the idea of sitting down to lasagna, spaghetti & meatballs, ravioli, or manicotti after evening mass. This spinach manicotti is the perfect dish to make ahead, tuck into the oven to warm while you're at church, and serve as soon as you're home and in your comfy clothes, awaiting Santa. The tiramisu is a classic! I look forward to eating it by the fireplace while I admire the tree and watch Asa play in his Christmas jammies.
Spinach Manicotti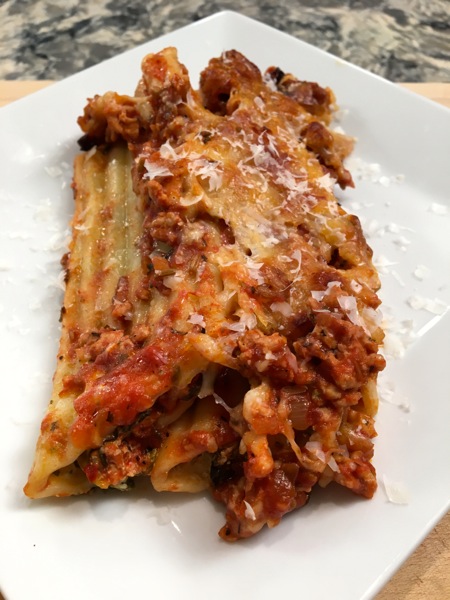 1 8-oz package manicotti shells
1 15-oz container ricotta cheese
1 10-oz package frozen spinach, thawed and squeezed dry
1 egg
1/2 tsp garlic salt
2 cups mozzarella cheese, divided
1 lb bulk Italian sausage
1 large jar marinara sauce, 26 oz or more
1 cup grated Parmesan cheese
Bring a large pot of salted water to a boil and cook the manicotti shells to al dente. Remove with a slotted spoon and place on an oiled baking sheet. To make the filling, mix the ricotta with the spinach, egg, garlic salt, and half the mozzarella cheese. Using a pastry bag or resealable bag with the corner snipped off, fill each manicotti shell with the filling. For the sauce, cook and crumble the sausage in a skillet over medium high heat. Add the marinara sauce and stir to combine. Spread a ladle of the sauce in the bottom of a large baking pan. Arrange the manicotti in a single layer and cover with remaining sauce. Sprinkle with the remaining mozzarella and Parmesan cheese. Cover with foil and bake at 375 degrees for 20 minutes, then uncover and bake for another 10 minutes to brown the top.
Tiramisu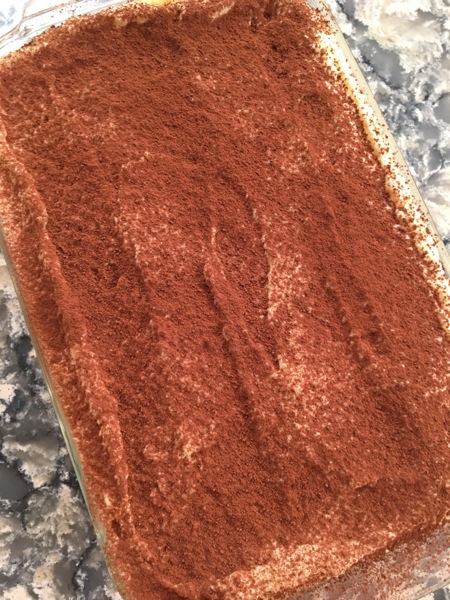 1 1/2 cups hot strong brewed coffee
2 tbsp caramel sauce
1/3 cup plus 1 tbsp marsala wine
4 egg yolks
1/2 cup sugar
1 pound mascarpone cheese, softened
1 cup heavy cream, whipped to stiff peaks
28-32 ladyfingers
Cocoa powder
In a shallow pan, combine the coffee with the caramel sauce and 1 tbsp of the marsala wine. Stir to dissolve the caramel sauce.
In a medium glass or metal bowl, beat the egg yolks, 1/3 cup of marsala, and sugar. Place the bowl over a saucepan of simmering water to set up a double boiler and continue to whisk the mixture until it becomes foamy, thick, and pale yellow. The mixture should at least double in volume and will be smooth and light. Stir in the softened mascarpone and then gently fold in the whipped cream.
Quickly dip ladyfingers in the sweetened coffee mixture and layer in the bottom of an 11×7 pan. Top with half of the mascarpone mixture, another layer of the soaked ladyfingers, and the remaining mascarpone. Dust the top with cocoa powder and chill for at least 6 hours before slicing.