It's about high time we visited Lexington's favorite ice cream shop and thank goodness we squeezed it in just in time to celebrate the tail end of National Ice Cream Month. Toa Green (one of my favorite people on the planet who just so happens to spend her days making my favorite food of all time) invited us to her ice cream lounge and spoiled us with her delectable sweet treats. I brought my own little sweet with me!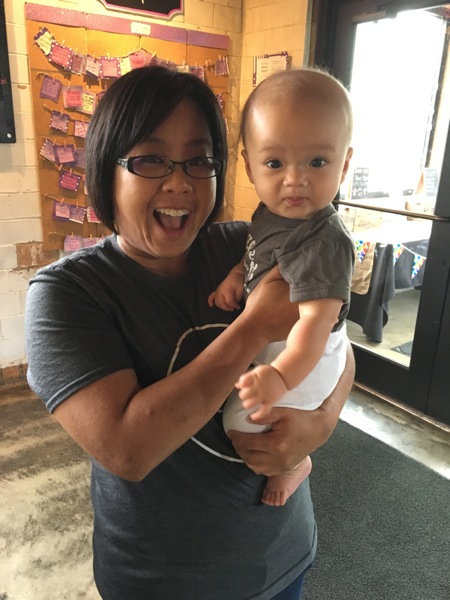 Crank & Boom is kicking some serious butt in Lexington and I could not be prouder of my dear friend. Toa is churning out some of the best ice cream I've ever eaten and trust me, I've eaten a LOT of it. She's supporting our local farmers and KY Proud businesses and creating some pretty awesome jobs in town. I mean, wouldn't you want to create luscious desserts and hang out with happy customers all day?
Toa shared some of her creations with us and we had the best morning of baby snuggles and ice cream sundaes. I love my job and days like this are the reason why!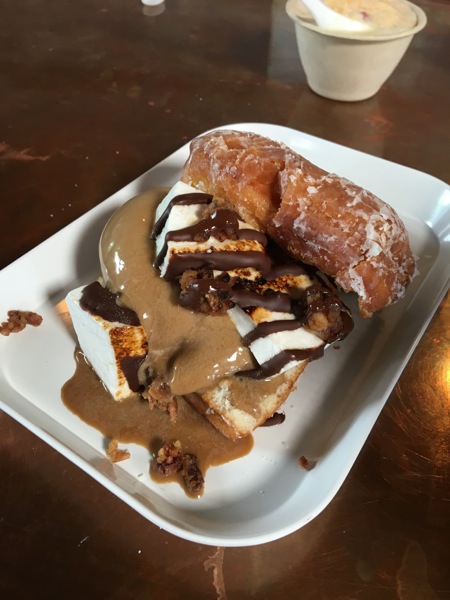 Crank & Boom's Bomb Sauce
1/2 cup coconut oil
2 1/2 cups dark chocolate chips (Toa uses Callebaut callets)
Melt the coconut oil and dark chocolate in a double boiler. Transfer to a squeeze bottle and use to drizzle on ice cream. If sauce hardens too much, gently rewarm in hot water to liquify.
Toa's Summer Peach Ice Cream
6-7 ripe peaches, sliced
1/4 cup brown sugar
1/2 cup granulated sugar
2 cups whole milk
1 cup heavy cream
1/4 tsp vanilla
1/4 tsp salt
Using a potato masher, mash the peaches with the brown sugar in a large bowl. Add the granulated sugar, milk, cream, vanilla, and salt and blend using an immersion blender. Freeze in an ice cream maker according to manufacturer's directions.