Anyone who knows me knows that I'm obsessed with bees.  Like little-old-lady-collector obsessed.  My family has called me "Bi" or "Bibi" for as long as I can remember and not only did the nickname stick, but my "mascot" quickly became the bumblebee.  I have bee EVERYTHING, from socks to candles to serving platters to purses.  Stick a bee on anything and I will buy it.  Our wedding invitations even had honeycomb letterpressed on them, complete with bumblebee.
Naturally, my love of bees has spawned a love of honey.  Last year, when we had a chance to visit an apiary, I was way more excited than any normal person should be to put on a thick, sticky beekeeping suit on the hottest day of the summer to buzz amongst the bees.  My brother in-law keeps bees and I love going over there on days when he'll crack open the hives.  I adore learning to spot the drones amongst the worker bees, checking out their capped honey, and spotting that fabulously elusive queen.
There are so many KY Proud honeys, as more and more farms are starting hives of their own.  We used Hosey's and Sutton's honey, two of my favorites.  But I love trying any local honey, as for me, it's like wine tasting.  I can appreciate the differences in color, consistency, and flavor notes.  And I can definitely appreciate all the hard work that both the bees and the beekeepers are putting in to put this liquid gold on our tables.
Honey Lavender Ice Cream
I have been churning batch after batch of ice cream this summer and feel triumphant every time I master a new flavor.  So bust out those ice cream makers that you received as wedding gifts and get to work!  As summer winds down, it's a great time to pick up an ice cream maker on sale, but even at original price, I've seen 2-quart Cuisinarts go for about $70, which I think is pretty reasonable in the kitchen appliance world.  My freezer is holding vanilla, peach, salted caramel, and now, honey lavender.  This is subtly fragrant, not too sweet, and so luxuriously creamy that someone on set took a bite before I could even snap a photo.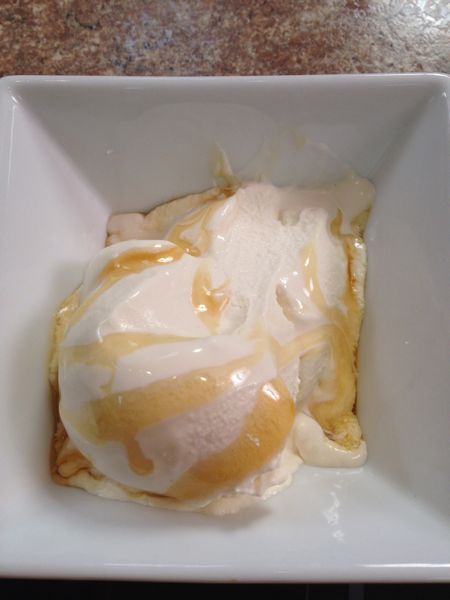 2 cups JD Country Milk's heavy cream
1 cup JD Country milk
2 tsp lavender
½ cup KY Proud honey
Pinch salt
2 eggs
Additional honey, as desired
In a  small pot, heat cream, milk, and lavender until hot, but not boiling.  Remove from heat and allow to steep for 20-30 minutes to infuse the dairy with the lavender flavor.  Heat to a simmer, then add in the honey and salt.  In a separate bowl, beat the eggs.  Temper in the eggs by slowly drizzling about a cup of the hot cream mixture into the eggs, whisking constantly.  Transfer the egg and cream mixture back to the pot with the remaining dairy and cook over low heat, stirring constantly, until thick enough to coat the back of a spoon.  Cool this custard mixture overnight in the refrigerator or over an ice bath to accelerate the cooling.  Transfer to an ice cream maker and churn according to manufacturer's directions.  As the ice cream freezes, swirl with additional honey while it churns, if desired, or serve with a drizzle of honey once scooped.
Honey Almond Croissants
My friend Annette and I are on the never-ending search for the perfect croissant, a quest that we both love pursuing and hope never ends.  Almonds croissants up the ante for me.  As a kid, I loved a plain, buttery croissant or on special days, a pain au chocolat.  But these days, I can never turn away an almond croissant.  Last year, Annette mailed me half a dozen giant ones from her farmer's market in DC and I ate them all week long, basking in buttery, nutty bliss.  These croissants combine toasty almonds with sweet honey to make the most flavorful almond filling.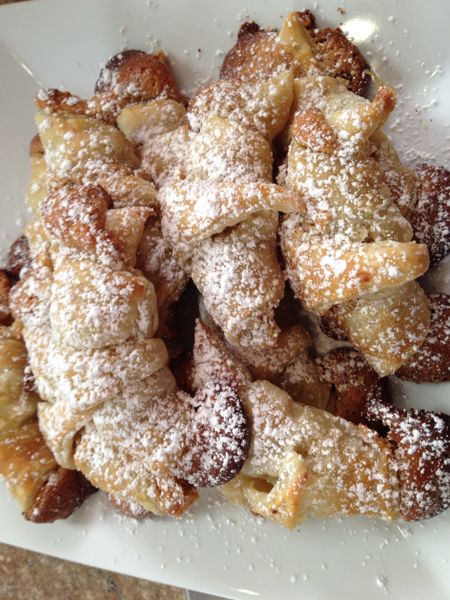 1 sheet puff pastry, thawed
1 cup sliced almonds
¼ cup honey (we used a combination of Sutton's Creamed Cinnamon Honey and Almond Honey)
2 tbsp butter, softened
1 egg, separated
Preheat oven to 400 degrees.
In the bowl of a food processor, blend almonds until fine.  Add in the honey, butter, and egg yolk and process to form a paste.
On a lightly floured surface, gently roll out the puff pastry dough and cut into 6 rectangles, then halve into triangles.  Place a small amount of the almond paste onto the wide end of each triangle and roll up into a crescent shape.  Transfer to a baking sheet, brush with egg white, and sprinkle with sugar or almonds if desired.  Bake for 15-20 minutes, or until golden brown.
Honey Granola
I've been making my own granola for years now and used to sell it by the bag at Wine + Market.  It is unbelievably easy, totally addictive, and makes for fantastic giving.  I love having control over the ingredients, so I can play with sugar & fat content, as well as add-ins like nuts, dried fruit, and spices to change up the variety.  Granola made with honey is exponentially better than granola made with plain sugar.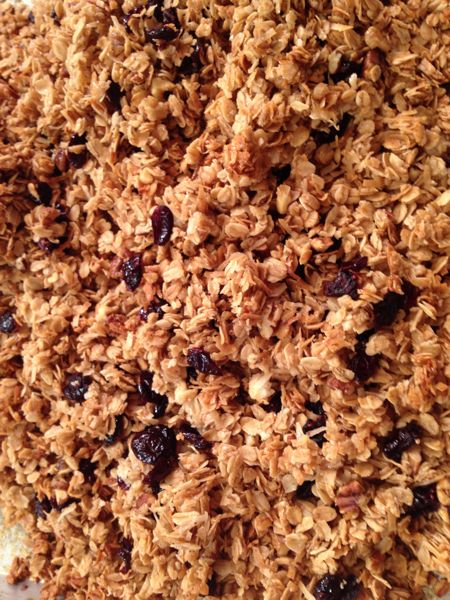 6 cups old-fashioned, rolled oats
1/2 cup walnuts, chopped
1/2 cup pecans, chopped
2 cups sweetened shredded coconut
2 tsp cinnamon
1 ½  cups honey
½ cup oil (vegetable or olive can be used)
1 ½ cups sweetened dried cranberries
Preheat oven to 350 degrees.  In a large mixing bowl, combine oats, almonds, coconut, and cinnamon.  Add honey and oil, mixing well to combine.  (Honey can be gently heated in the microwave to make it more fluid.)  Spread oat mixture onto a baking sheet which has been sprayed and lined with parchment paper.  Bake oats for 20-25 minutes, turning mixture over with a spatula every 5-10 minutes to ensure even browning.  Remove from oven, mix in dried fruit, and return to oven for an additional 5-10 minutes.  Remove from oven, allow to cool, and transfer to an airtight container.
Sprinkled on a summer peach with a dollop of yogurt, it is the ultimate breakfast or hot afternoon snack.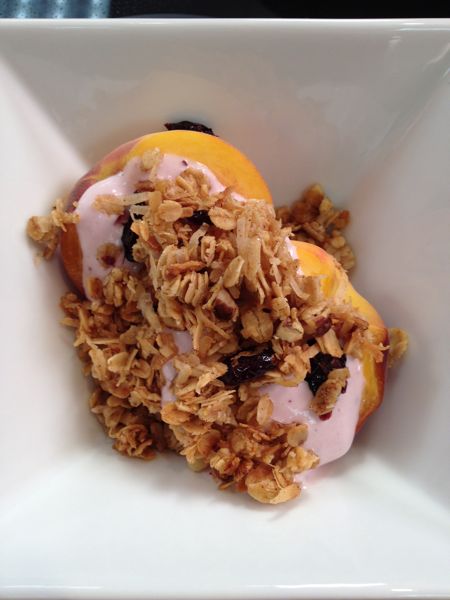 And that's all the buzz on honey!  Here's the latest buzz on the Kitchen Proud Kitchen…we have marketing posters!  I walked into the Fox studio to tape this episode and was super excited (as you can see) to see this giant poster in the front window, next to all the most popular shows on Fox.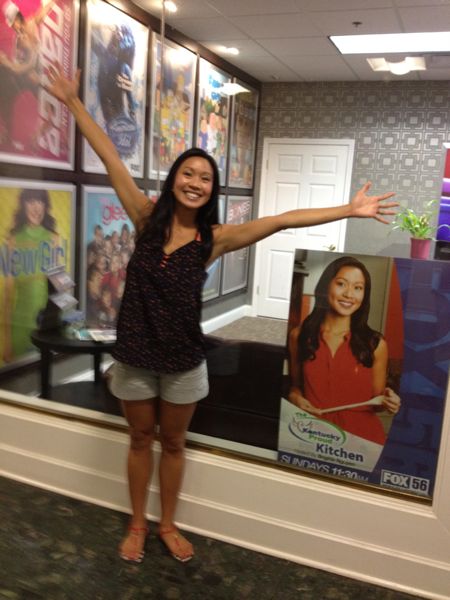 And the top I'm wearing?  It's made by Joy Joy and is still available right now at Monkee's of Lexington!  I adore anything navy and this sweet print with its bright buttons and ribbon detail has become my new favorite summer top.  Monkee's is having an incredible sale right now, with 50% and 75% off, plus designer shoes for just $25.  Like them on Facebook and you too can be privvy to all their sales and promotions.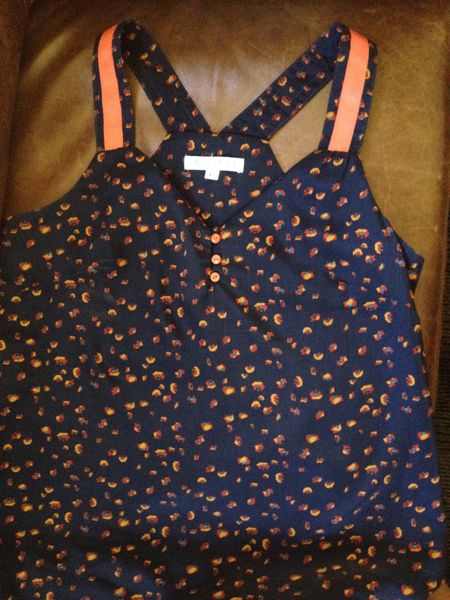 Thanks for popping by and see you next week!