Michael has often said that he's on a seafood diet.  As in, "I see food, I eat it."  We are big time seafood lovers, as evidenced by a week long trip we take each and every year with his family to the beach, where we eat nothing but fish/shrimp/scallops/oysters/crab for 7 straight days.
When people think of KY Proud ingredients, they think of vegetables, fruit, and meats like pork, chicken, and beef.  But what doesn't often come to mind is seafood, and I am happy to report that Kentucky has a growing aquaculture program that is bringing us shrimp, tilapia, trout, striped bass, spoonfish caviar, and more.
For this episode, I even had the great luck of stumbling upon some KY Proud smoked salmon, smoked by Shuckman's Fish Co. & Smokery in Louisville.  Billy Webb, of Sheltowee Farm Mushrooms, sells Louis Shuckman's products at the Azur Farmer's Bazaar and I happily snatched up one of everything he was selling that day.
You can buy Shuckman's all over Kentucky at Liquor Barn, Whole Foods, and ValuMarkets.  For this episode, I used a cold-smoked salmon, which is cured and smoked for 12-14 hours below 65 degrees in a refrigerated smokehouse, and a hot-smoked salmon, which is cured, cooked, and smoked to 160 degrees.  Louis uses both hickory and oak, the latter of which is coming from Old Rip Van Winkle's toasted oak bourbon barrels.  In addition to curing, cooking, and smoking under one roof, Louis is also producing spoonfish caviar and a variety of spreads.  He's invited me to come out for a visit and I am totally taking him up on his offer.
The NY Bagel goes KY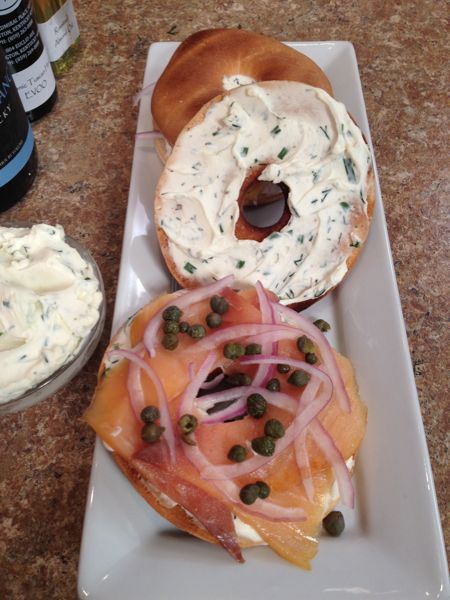 1 package (8 oz) cream cheese, softened
1 tbsp chopped dill
1 tbsp chopped chives
Stuarto's onion salt, to taste
Pepper, to taste
4 bagels, split and toasted
½ lb Shuckman's cold smoked salmon
¼ cup capers, drained
½ small red onion, thinly shaved
Beat the cream cheese with a stand mixer until light and fluffy. Blend in the dill, chives, and a pinch of onion salt and pepper.  Spread this mixture onto toasted bagels and top with a slice of smoked salmon, capers, and red onion.  Serve open-faced or as a sandwich.
Smoked Salmon Pasta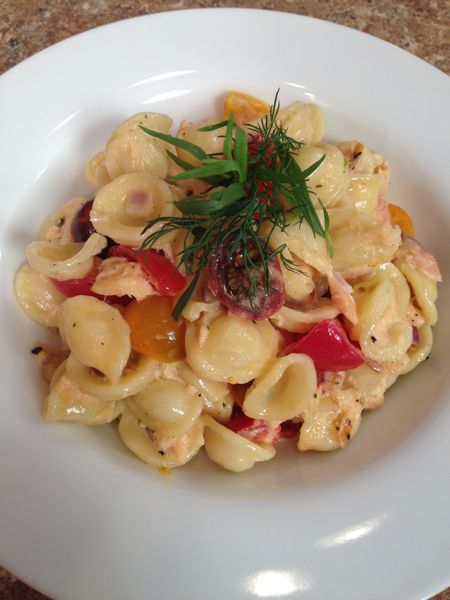 1 tsp olive oil
1 shallot, diced
1 sprig dill, stripped
2 sprigs tarragon, stripped
½ cup heavy cream
4-6 oz. Shuckman's hot smoked salmon
½ cup grape tomatoes, halved
½ lb cooked pasta, such as orrechiette or bowties
Heat olive oil in a large pan and sauté the shallot until translucent.  Add in the herbs and cream and bring to a simmer to thicken slightly.  Break apart the salmon into flaky chunks and add to the cream. Add the tomatoes and cooked pasta and season with salt and pepper.
Pecan-Crusted Trout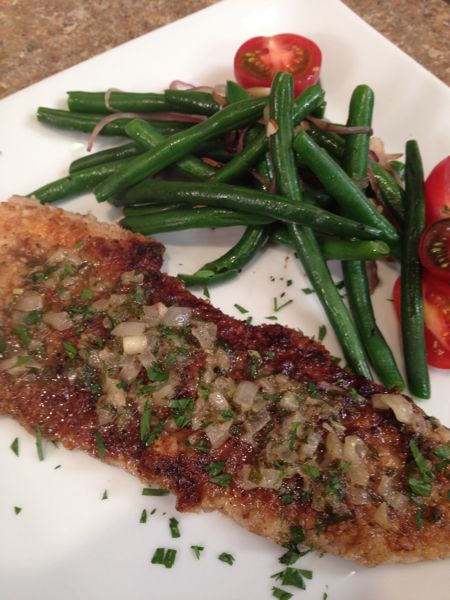 ½ cup pecans
¾ cup flour
1 tsp salt
½ tsp freshly ground black pepper
½ tsp paprika
2 filets of KY Proud trout
½ cup buttermilk
2 tbsp olive oil
1 shallot, minced
Juice of 1 lemon
¼ cup white wine
2 tbsp butter
1 tbsp parsley
Salt and pepper, to taste
In the bowl of a food processor, process the pecans and flour until finely blended.  Transfer to a shallow baking dish or plate and stir in the salt, pepper, and paprika. Soak the trout filets in buttermilk and then dredge in the flour mixture to coat well on both sides.  Heat 1 tablespoon of olive oil in a cast iron skillet over medium heat and brown the trout filets, skin side up, for a few minutes until nicely browned.  Gently turn over and brown on the other side until fully cooked.  Transfer to a separate plate and add the remaining tablespoon of olive oil to the pan.  Saute the shallot until translucent, then add lemon juice and white wine.  Reduce slightly, turn off the heat, and swirl in the butter and parsley.  Season with salt and pepper.  Spoon the sauce directly over the trout and serve.
Green Beans Almondine
2 large handfuls green beans, picked
1 tbsp butter
¼ red onion, thinly sliced
Salt and pepper, to taste
2 tbsp toasted almonds
Blanch the green beans in salted, boiling water until tender and crisp to your liking.  Shock in ice water and drain.  In a sauté pan, heat the butter and gently sauté the red onion until lightly caramelized.  Add the blanched green beans and heat through, then season with salt and pepper and top with almonds.