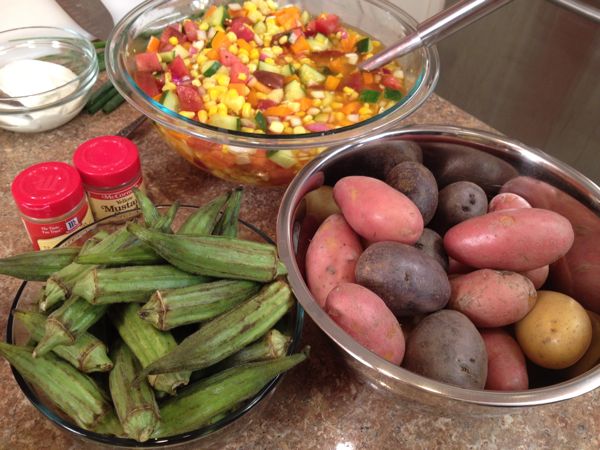 I don't need reminding to eat my vegetables, but I know some of you out there do. What's NOT to like about vegetables, especially during this time of year when they're so abundant locally?  The best Saturday morning is one spent at the Farmer's Market where you can peruse produce for hours (I do!), run into friends, listen to music, people-watch (my favorite hobby), and grab a nutella crepe, fried green tomato BLT, or market omelette (or heck, have all three.  It has been done before.)  The key with veggie shopping is to keep it local (it'll just taste better when it's in season, picked at its peak, and sold within hours of harvesting) and keep it colorful!!!  See?  Even the potatoes have a splash of color.
I also LOVE a summer veggie plate, sans meat.  It doesn't happen often (I eat like a man and must have meat at every meal), but when it does, I'm always asking myself why I don't go meatless more often.  It sounds weird, but when I'm eating your typical "meat and three," I'm always distracted by the meat.  As in, I have to eat my fried chicken while it's crispy, my steak while it's hot, my burger while it's juicy, etc.  The whole meal revolves around the protein and I never enjoy my sides quite as much as I would if they were standalone items.  With a veggie plate, everyone gets to be the star and it's just a nice, light option for a hot, hot evening.
Corn Chow Chow
I've been playing around with chow chow recipes for years and this one is the one to beat.  I first put it on a burger back in 2009 for Food Network, but this version toes the line between relish and salad with the addition of tomatoes and cucumber.  I still can't figure out if I like it better alone or as a topping and until then, I will continue to eat it as both.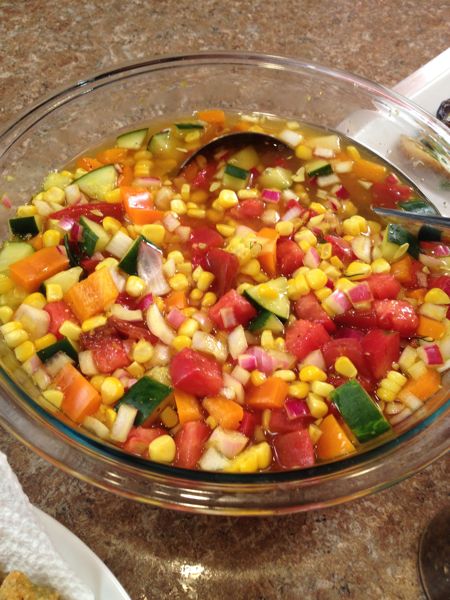 3 ears corn, shucked
1 orange bell pepper, diced
1 cucumber, diced
½ onion, diced
1 cup vinegar
½ cup sugar
1 tsp turmeric
1 tsp mustard seed
2 sprigs dill
1 tomato, diced
Cook the corn in boiling water until tender and remove to cool.  When cool enough to handle, cut the corn from the cobs and place in a large bowl.  Add the bell pepper, cucumber, and onion.  In a small saucepan, heat the vinegar and sugar to dissolve the sugar, then add the turmeric and mustard seed.  Pour this hot mixture over the vegetables and stir to combine.  Add the dill sprigs and once the chow chow has cooled slightly, add the tomato.  Keep in the refrigerator and serve as a relish on burgers/hot dogs or as a side salad itself.
Baby Potato Skins
You need these in your life.  You will never again order those greasy, chewy potato skins with their rubbery cheese crust from a restaurant chain's bar menu when you can have these crispy, fluffy, cheesy lovelies on your game table.  Oh, and it took incredible restraint to keep from swathing these in bacon grease and topping them with bacon bits.  But didn't I just talk about meat stealing the spotlight?  And surprisingly, even to me, these were perfect just the way they are.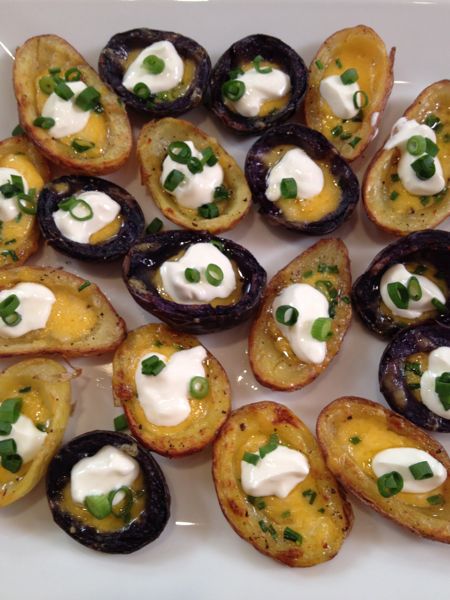 1 lb small new potatoes, about golf ball size (we used red, yellow, and blue potatoes)
½ stick butter
2 cloves garlic, crushed
1 cup grated cheese (we used Kenny's Colby)
¼ cup chives
1/3 cup green onions
1/3 cup sour cream
Place the potatoes in a pot of water and bring to a boil, cooking until tender.  Drain and allow to cool.  Meanwhile, place the butter and garlic in a small saucepan over low heat to melt the butter.  Preheat the oven to 450 degrees.
Cut the potatoes in half lengthwise and, using a teaspoon or melon baller, scoop out some of the inside of the potato, leaving about ¼ inch of potato on the skin.  Discard the insides or save for another use.
Arrange the potato skins on a baking sheet and brush with the garlic butter.  Season with salt and pepper and place in the oven until browned, about 15 minutes.  Remove from oven, sprinkle with cheese, then return to the oven until the cheese melts, about 2-3 minutes.  Sprinkle with chives, green onions, and finish with a small dollop of sour cream.
Fried Okra with Horseradish Herb Dip
Fried okra.  Need I say more?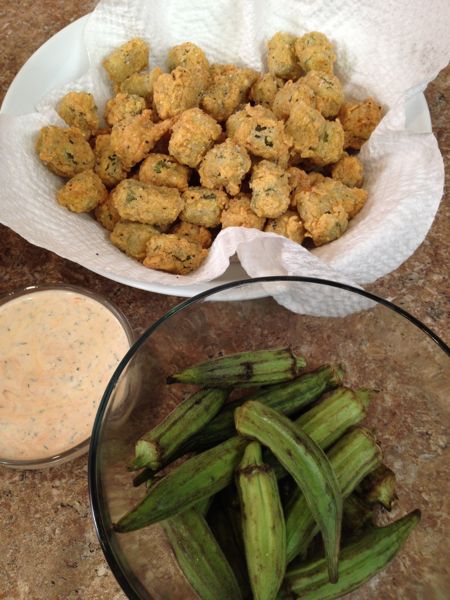 2 cups okra, sliced into ½ inch pieces
1 cup buttermilk
¾ cup flour
¾ cup cornmeal
1 tsp paprika
Salt and pepper
Oil, for frying
Place the okra in a small bowl and pour the buttermilk directly over top.  In a pie plate or shallow dish, combine the flour, cornmeal, paprika, and a pinch each of salt and pepper.  Stir to combine.  In batches, remove the okra pieces from the buttermilk with a slotted spoon and toss into the dry mixture, turning to coat.
Heat oil to about 350 degrees and fry the okra in batches until brown and crispy, about 5 minutes.  Remove with a slotted spoon, drain on paper towels, sprinkle with salt, and serve.
Horseradish Herb Dip
¼ cup Mayo
1/3 cup sour cream
1 tbsp horseradish
1 tbsp hot Sauce
1 tbsp dill, chopped
1 tbsp parsley, chopped
Salt and pepper, to taste
Combine all ingredients in a small bowl and season with salt and pepper.
If you can't get enough color in your diet, stick it in your wardrobe too.  I am obsessed with this episode's Monkee's top, by Trina Turk.  Even before I'd walked into Monkee's for the first time, I'd seen this sunny yellow top on their Facebook page and fell in love.  You know when you have something in your closet that sets the mark for everything else to measure up to?  This is it.  Perfect fit, fun detail, great color (it matches the summer corn!!), and the keyhole at the back is just too good.  I want to wear it everyday.  Retails for $138.