Exciting news here in The KY Proud Kitchen!  We are getting ready to air statewide this Sunday, which also happens to be the 1 year anniversary of our first episode's air date.  Happy Anniversary, KY Proud Kitchen!  I love you and I am so proud of how far we've come. We had no idea what we were doing a year ago…and now?  Well, we still have no idea what we're doing, but we sure have a good time doing it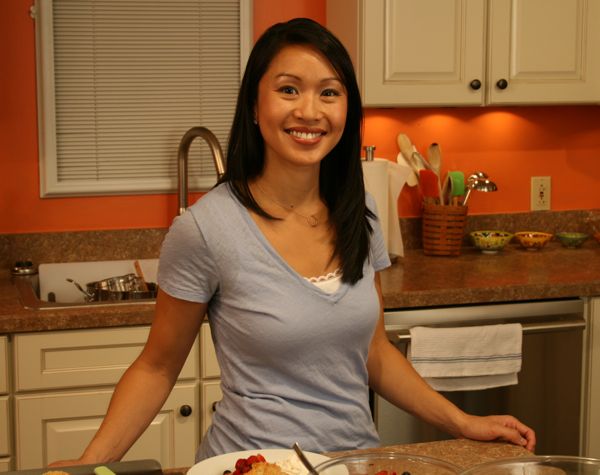 We've aired locally in Lexington for all this time and it thrills me to be able to join you in your kitchens in Pikeville, Paducah, Bowling Green, and Louisville.  I'm so proud that we bring new recipes and content each and every week, so make sure to tune in or set your DVR/Tivo because we have yet to air reruns!  Depending on your provider, The KY Proud Kitchen is also available OnDemand.  I'll post stations and airtimes soon, as we will be airing on different days at different times on CBS, NBC, ABC, and of course, FOX56 right here in Lexington.
With our new statewide distribution, I'm also promising to post recipes here so that we have a central recipe database!  I get a lot of viewer emails when recipes are posted late or out of sequence on the station's website, so I thought I'd solve all those problems and make them available here, as well as on Fox56.
So…without further adieu, here are recipes from Episode #36-Berries!  We used local berries, which are absolutely gorgeous and super sweet right now, so hop on over to KY Proud to find your closest berry farm.  I especially love any place that will let you come and pick yourself like Berries on Bryan Station.  I dream of having buckets of berries to freeze, rows of mason jars filled with jam and sauce, and of course, berry-stained hands.
Berry Sauce
1 pint blackberries or blueberries
1 tbsp sugar, plus more to taste
1 tbsp lemon juice
Place all ingredients in a small saucepan and simmer until berries begin to burst and break down.  Sauce will thicken as it cools.  If desired, sauce can be pureed/crushed and strained if you'd like a smoother product.
Berry Panna Cotta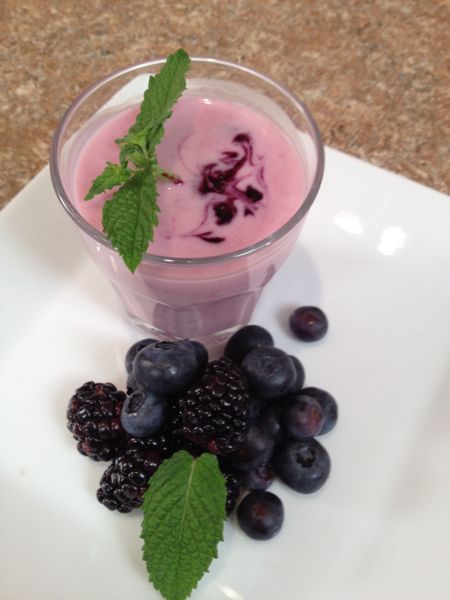 1 packet gelatin (.25 oz)
¼ cup water
3/4-1 cup berry sauce, above, strained to remove seeds if using blackberries
1 ½ cups cream
2/3 cup sugar
1 ¼ cups buttermilk
Sprinkle gelatin over water in a small bowl and let stand 1 minute to soften.
While gelatin softens, heat cream and sugar in a saucepan over moderate heat until hot, stirring until sugar is dissolved. Remove from heat and add gelatin mixture, stirring until dissolved.  Add the hot cream mixture to the cold buttermilk, then stir in the berry sauce.  Pour mixture into ramekins or small glasses and chill, covered, until firm, about 4 hours.
Black and Blue Napoleons
Puff Pastry:
1 sheet puff pastry, thawed
1 tbsp flour
1 tbsp sugar
Pastry cream:
2 cups milk
1 vanilla bean, split and scraped
½ cup sugar
4 tbsp cornstarch
2 egg yolks
1 whole egg
½ package cream cheese
For Assembly:
3 cups blackberries and blueberries
Powdered sugar, optional
Preheat the oven to 400 degrees.  Unfold the puff pastry and gently roll on a floured surface to create a rectangle and cut into three long rectangular strips, about 4 inches by 13 inches. Place on parchment lined baking sheet, then sprinkle with sugar.  Cover with another sheet of parchment and another baking sheet, to prevent the dough from puffing.  Bake for 10-14 minutes, or until nicely browned.  If needed, remove the top sheet after 10 minutes and allow to brown.
To make the pastry cream, bring the milk and the vanilla bean to a simmer over medium heat in a saucepan.  In a medium bowl, whisk together the sugar, cornstarch, egg yolks, and egg.  Once the milk simmers, temper it into the egg mixture by slowly streaming in the hot milk and whisking continuously.  Strain the mixture back into the saucepan, to remove the vanilla beans and any stringy egg bits, and bring it back to a simmer, stirring constantly with a wooden spoon or whisk.  Once it thickens, remove from heat and stir in the cream cheese.  Cover with plastic and refrigerate.
To assemble, spoon pastry cream into a piping bag fitted with a plain tip or a resealable plastic bag with the corner snipped off.  Place one puff pastry strip on a serving platter, then pipe the pastry cream all over.  Top with berries.  Pipe a small amount of pastry cream all over the underside of the next puff pastry strip to act as glue and stack on top of the berries on the first strip.  Pipe additional pastry cream on this middle strip, top with berries, then top with the last puff pastry strip, again piping a bit of pastry cream on the underside so that the layers stick and do not slide.  Finish by shaking powdered sugar over the top layer, if desired.