I can't remember a time when I didn't love coffee.
I started on it pretty early, as our household was never without a freshly brewed pot of coffee each morning.  My parents took their java pretty seriously and I was raised on Peet's Arabian Mocha-Java.  The first time I tasted Folger's was at a piano recital and I almost spit it back into the styrofoam cup.
My mom was always very savvy when it came to spending money–she clipped coupons, drove to 3 separate grocery stores to get the best prices, and stockpiled sale items, but she loyally indulged in Peet's coffee, a habit that holds true to this day.
Mom used to pour an inch of coffee into a mug for me and fill the rest with milk and a spoonful of sugar.  If coffee truly stunts your growth, it's no wonder I've topped out at a stubby 5'2″.  But it's been worth it.
As a kid, one of my favorite desserts was Trader Joe's mud pie, which we bought for just about any special occasion.  Guests coming over?  Get a mud pie!  Potluck dinner?  Bring a mud pie!  Dad's birthday?  He wants a mud pie!  Black bottom crust, coffee ice cream, chewy fudge topping, and toasted almonds…what's not to like?
Sadly, Lexington has no Trader Joe's, so I decided to make my own nostalgia-evoking mud pie, desperately hoping it would live up to the pies of my childhood.  And it did, with one exception: I made my own ganache from chocolate chips and heavy cream and was really missing that wonderfully sticky chew and chocolate syrupy flavor that only store-bought hot fudge can lend.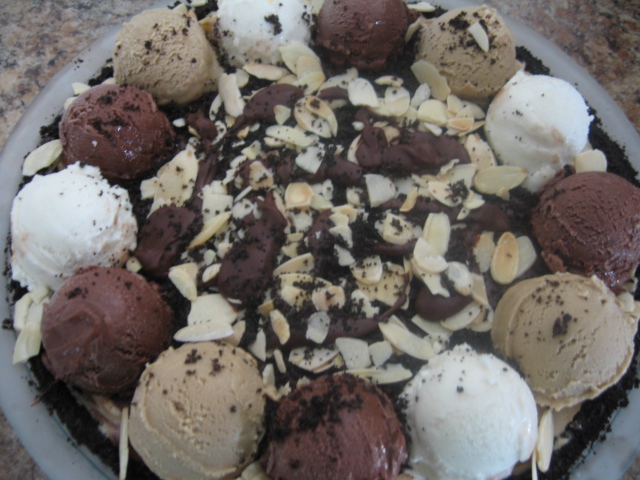 Mocha Mud Pie
20 Oreo cookies
1/2 stick butter, melted
1 pint chocolate ice cream
1 pint vanilla ice cream
1 pint coffee ice cream
1 cup store bought hot fudge
1/2 cup sliced almonds, toasted
Preheat oven to 350 degrees.  Using a food processor, grind cookies to a fine crumb.  Remove and reserve a spoonful of crumbs to garnish finished pie.  Add melted butter to the remainder of crumbs and pulse until combined.
With the back of a spoon, press crumb mixture onto the bottom and sides of a 9 inch pie pan.  Bake for 10 minutes to set and cool completely.
While crust is baking, use a 1 oz scoop to form 3-4 scoops each of chocolate, vanilla, and coffee ice cream (enough to circle the perimeter of the pie pan; I used 13 total scoops).  Place scoops on a small baking sheet or dinner plate and put in freezer to harden.  Leave remainder of ice cream on countertop to soften slightly.
Spread the bottom of the crust with about 1/3 cup of hot fudge.  Spread the remainder of the chocolate ice cream onto the bottom of the crust.  Repeat with the vanilla and coffee ice cream to form layers.  Place in freezer for 10-15 minutes to slightly set.
Arrange the scoops around the perimeter of the pie, alternating flavors.  Drizzle remaining hot fudge over the top and sprinkle with toasted almonds and reserved cookie crumbs.  Freeze until firm, about 2 hours.  Slice with a sharp knife and serve with additional hot fudge or whipped cream if desired.