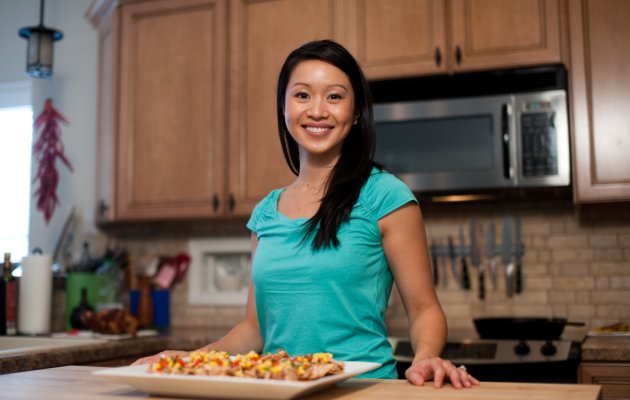 Hungry?  You've come to the right place.
I'm a career-changer who swapped financial statements for cookbooks when I moved across the country for love, ditched my job as an auditor, and enrolled in culinary school to indulge my lifelong passion for food.
I had no idea that pursuing this love of mine would open so many doors in the culinary world that I didn't even know existed.
A few years ago, I started hosting a weekly wellness cooking segment on the local NBC affiliate. Then, I scored a 30-minute show on Fox56 called "The Kentucky Proud Kitchen," where I get to explore local farms and food producers here in Central Kentucky and whip up some easy, seasonal recipes using their items.  I've put on a beekeeping suit, jumped on a chocolate factory assembly line, and uncovered some of the secrets behind Kentucky's famous bourbon.
And the latest?  I am now hosting a national cooking show, "From the Kitchens Of…" on Cooking Channel!!!  I travel across the country to visit test kitchens and meet the experts behind some of America's best known food companies.  I've poked the Pillsbury Doughboy's belly, had Rice Krispies with Snap, Crackle, and Pop!, and I've even been inside the tree where the Keebler elves work their magic.
If that wasn't sweet enough, I am also a contributor on Cooking Channel's Unique Sweets!  I visit the best bakeries and sweet spots in the country, eat my way through their menus, meet the geniuses behind their tooth-aching creations, then attempt to talk about them in some witty way on camera.  Hello, fun!
Like any good cook, I'm always looking for the next delicious meal/brilliant recipe/life-changing opportunity.  I hope to bring you more good news and inspiring recipes in many, many years to come.  From the bottom of my growling stomach, thank you for stopping by and for all the kind support.